Fashion
Sri Lanka's first International fashion week, The Mercedes Benz Fashion Week from Oct 27 to 30
View(s):
The Mercedes Benz Centre of Excellence (DIMO 800) played host to Sri Lanka's first International Fashion Week from October 27 to 30. The Mercedes Benz Fashion Week, conceptualised by the Academy of Design and powered by Mercedes Benz Sri Lanka and Dimo, provided a platform for Sri Lankan designers and the apparel industry to showcase their work. The show even received endorsements from Sri Lanka Apparel and the Export Development Board, with industry giants such as Brandix, MAS and Hirdaramani patronizing the event.
Models took to the catwalk on the first three days, showcasing designs under the themes of New Sri Lankan Style, Travel Style, and Emerging Talent. On the fourth and final day the graduates of the Academy of Design took the ramp with their graduating collection.
Here are a few highlights of Days 1 – 3
Day 1  New Sri Lankan style
By Tarini Pilapitiya.  Pix by Priyantha Wickramaarachchi
Day 1 (October 28) saw collections of 15 designers take the ramp as the Mercedes-Benz Fashion Week opened to a gala evening of celebrating Sri Lanka's history of artisan crafts and materials. The designers showcased collections with the label "Made in Sri Lanka" exhibiting how fashion plays a vital role in our industry – not only in manufacturing and designing clothing but uplifting livelihoods.
The organisers and designers showcased batiks, handlooms and embroidery which depicted a holistic image of fashion, taking artisan crafts to a global platform.
Designer Shehani De Silva's collection, "Where the skies are blue" explored denim- inspired handloom -light, airy and an almost fusion of western and Sri Lankan pieces.
"Festival Traveller" by Sanjeewani Seneviratne was an amalgamation of "frills and thrills" – a Goth punk vibe resonating throughout the collection. These largely monochrome batik designs were styled with lace, studs, and frills of tulle with a consistent use of a rose symbol in the designs.
A militia inspired collection, Senani Wickremasinghe's "Tropical Safari" brought out daring Khaki fabric mixed with tropical prints, a fine balance of feminine and masculine.
"Galle is calling' by P&D showed their versatility by using cotton and silk travel clothing and batik swimwear, loungewear and cover-ups. Bold prints and eye popping colours made in main of red, blue and white the collection was one to look out for.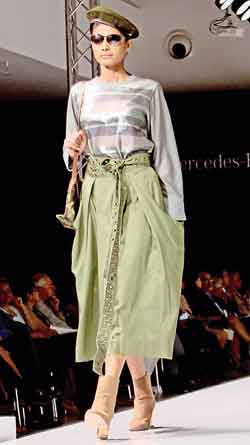 Senani Wickremasinghe's "Tropical Safari"
Day 2  Travel style
By Shakya Wickramanayake.
Pix by Sameera Weerasekera
Day Two featured 13 designers and brands, designing under the theme of 'Travel Style'.
Kicking off the show was Prabath Samarasooriya's gray scaled women's collection 'Mori Girl' followed by a series of black and white hued collections including Kur Collection's 'Lower East Side', and Ishara Jayathilake's 'Monastic Zen'.
Notable collections were 'Outlander' by Vogue Tex and Kanchana Fernando's 'So Cal' made in collaboration with LICC Jeans. The former featured dropped waists and A line silhouettes, with detailed beading work, which worked well with the soft colour palette. The latter was a denim batik collection consisting of ripped jeans, overalls, skirts, jackets and shorts, with tassels added as embellishments.
Buddhi Batik's 'Tropical Sports' featured sportswear including sports bras and bags, with floral and geometric prints.Collaborating with Rainco, Lonali Rodrigo had raincoat clad, umbrella wielding models in tropical printed trekking attire. The collection was appropriately named 'Rainforest Explorer'. The night also saw apparel and textile manufacturers, including industry giants Hirdaramani, MAS and Brandix (Teejay) take the ramp. Other standout collections were Aqua Island's swimsuit collection 'Aruba' and True Digital Printing's 60s inspired 'Eclectic Bloom' collection.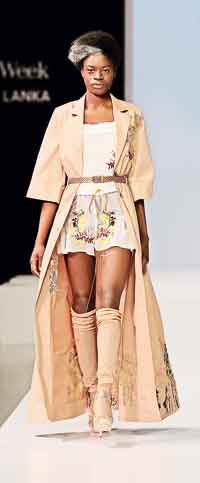 Day 3  Emerging talent
By Kaveesha Fernando.
Pix by Indika Handuwala
The Emerging Designers Runway saw interesting and unusual designs on the ramp. Uddami Wijesekara's collection in light pink and white featured many floral designs and pieces with lace. Chanchala Devanthanthrige's designs had designs in white offset with bright colour and glittering sequins.
Raidha Maldives collection was a trendy take on the hijab in pastel shades designed with embroidery. Suit and Ties Collection was of the conventional suits as well as short suits highlighted by different colours, including bright shades of blue and lime green.
Kanchana Fernando and Dilni Dodangoda's collection featured modern batik prints in bright colours. Gabriela Mazepa's collection of men's and women's wear was as colourful as it was unusual. Waves showcased a collection of bright bikinis with white resort wear.
Dileesha Navimanage's collection featured full outfits in batik. Libanky Holdings collection was of swim wear and resort wear in light colours and floral patterns. Natharlea had unusual black, white and gold designs that had an Egyptian vibe.  Edgy and futuristic was Ann Manjalee Silva's collection in black and white.
AOD fashion 2017 had a collection of interesting dresses, shorts and crop tops in a series of shiny metallic and retro patterns.