Amit Chaudhuri: The modernist writer with a fascination for Calcutta
View(s):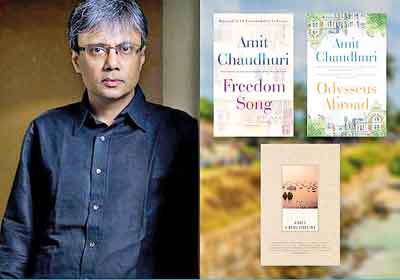 Amit Chaudhuri has long been haunted by Calcutta. The place of his birth, it has appeared in a multiplicity of forms across his five novels. For  instance, his second novel, 'Afternoon Raag,' drew on his personal experience, and was about being an Indian student at Oxford and his memories of Calcutta. His third novel, 'Freedom Song,' was set in the winter of 1992, when tensions were rising between the Hindu and Muslim communities in that same city.
Everywhere you look in his oeuvre, Calcutta seems to be waiting. In fact, among his most recent novels is one where his interest is made explicit in the title itself, 'Calcutta: Two Years in The City.'
One of India's most celebrated writers and the author of several acclaimed novels, Chaudhuri is the winner of multiple awards including the Commonwealth Writers Prize and the Los Angeles Times Book Prize.
He is a sought-after essayist and literary critic who has worked for The Guardian and The Times Literary Supplement. He is a poet and an editor of anthologies, notably 'Memory's Gold: Writings on Calcutta,' which featured not just big names like V.S. Naipaul and Amitabh Ghosh but also less well known and eccentric pieces like Matthew Sweeney's poem, 'A Day in Calcutta,' and an extract from a former FGLF participant, Sarnath Banerjee, whose graphic novel 'The Barn Owl's Wondrous Capers' did brisk sales in Galle.
But perhaps most fascinatingly, Chaudhuri is also a classically trained musician, working in the North Indian tradition. Here too his absorption with Calcutta is evident – extending to music videos, made to showcase tracks from his critically acclaimed albums 'This Is Not Fusion' and 'Found Music.'
In an interview with The White Review, he told a journalist that for modernists such as himself, the city was an exciting place, unknowable and almost wild. "That's why when the modernist speaks about the city as Walter Benjamin does about Paris, he will speak about man-made things with the excitement of one who is confronting surprising, organic, almost natural things. He will speak about them with the sort of excitement that Wordsworth speaks about daffodils or nature." This is much the way Chaudhuri experienced Indian cities as a child, and the way he engages with them now both in fiction and non-fiction.
(Chaudhuri would find other inspirations from childhood following into his career as a writer. In particular, his mother was a great singer of Tagore songs, who was always brave enough to give them her own unique interpretation. "That made me aware of inheritance as a living thing and not as a dead thing to be revered," Chaudhuri would later say. Chaudhuri would eventually go on to write a book on Tagore, the first non-European to win the Nobel Prize in Literature. Chaudhuri's 'On Tagore: Reading the Poet Today' was published by Peter Lang in 2013.)

Straddling many worlds, Chaudhuri remains one of the most erudite and versatile Indian authors of his generation. He is often compared to R.K. Narayan. And throughout, Calcutta continues to fascinate.
A journalist for The Guardian noted that Chaudhuri appeared drawn in by childhood memories of a place "at once vernacular and cosmopolitan – people speaking in Bengali but actually being much more modern and cosmopolitan than their counterparts speaking English in Bombay." He found his parents' generation exotic in their unanchoredness: "A class of people who are at once there and who are exiled, who are not completely there, who are travelling at the same time."'
These things might be true of Chaudhuri himself. He remains in some ways an outsider to Indian society, a throwback to a time when Bengalis valued the pleasure of getting there slowly, of circling the point. As he said in that Guardian interview: "I believe that the arts, and art, and writing, are basically forms of addiction – you go to them again, and you read it again, re-reading. And you're not re-reading for what the story tells you, for the plot, or illumination. This is not the addiction of what happens next."