A resuscitated CJMS turns a new leaf
By Kumudini Hettiarachchi
The Ceylon Journal of Medical Science that had its beginnings nearly a century ago but went into abeyance, returns with new life and vigour
View(s):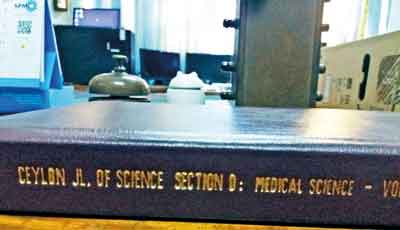 Up on the screen is a familiar iconic building, with its signature clock tower — the Colombo Medical Faculty and it was within it that a simple but epoch-making event aptly named 'Turning a new leaf' took place on the morning of October 24.
It was the re-launch of the Ceylon Journal of Medical Science (CJMS), available at the fingertips, with a few slim printed copies being distributed among the distinguished gathering.
Taking up an arduous task amidst her busy schedule and turning the Senior Common Room into an impromptu 'Editorial Office', it is Dr. Jithangi Wanigasinghe, Senior Lecturer in the Medical Faculty's Department of Paediatrics, who as Editor of this newest creation is treading gingerly in the footsteps of a long line of greats such as Dr. Lucius A. Nicholls, Prof. S.R. Kottegoda and Prof. Daphne Attygalle of yore.
The journey has been difficult, with many a stumbling block strewn along the way but Dr. Wanigasinghe has overcome them all, supported heavily by the Dean of the Colombo Medical Faculty, Prof. Jennifer Perera and Emeritus Editor Prof. Laal Jayakody; the "blessings" of the Senate of the University of Colombo; and the faith of all those authors who sent in their contributions.
Volunteering about a year ago to give "new life and vigour" to the Ceylon Journal of Science which had seen the light of day 93 long years ago but went into abeyance, Dr. Wanigasinghe says with all humility that "it has been a journey of hard work, steep learning and invaluable support from many, both academics and non-academics who showed the way".
Looking back at those early Ceylon Journals of Science, the newborn CJMS Volume 54 also looks forward and includes many an article in keeping with the times. To set everything in context, it is Prof. Jayakody who flips back the pages of time and delivers the 'History of the CJMS', while Prof. Saroj Jayasinghe in his 'Invited Review' deals extensively with 'Integrating compassion to clinical care: A review of an emerging science'.
Not only for senior academics but also for students have the pages of the CJMS been thrown open, with a Case Report as well as a Picture story making interesting reading.
The Editorial Board consists of 13 eminent local academics and a four-member International Advisory Board.
With a fervent plea not to replace the beautiful image on the front cover of the Medical Faculty's clock-tower built in 1881 in memory of the Second Principal Dr. E.L. Koch, Chief Guest and Vice Chancellor of the University of Colombo, Prof. Lakshman Dissanayake also cautions on the need to sustain the CJMS. He offers all support in this connection.
The gathering was taken on a different journey through 'Sri Lanka as a research hub: Look to the future' by Prof. Sunethra Atukorala.
Prof. Jayakody, meanwhile, opened up history by casting away the shadows of time to reveal how the CJMS had its beginnings as Section D of the Ceylon Journal of Science established in 1924 by the then government, for the publication of scientific and other research conducted in the colony. Botanical, zoological and some other sections had existed as separate journals for many years but had been consolidated that year.
In 1924, the journal had seven sections: A – Botany; B – Zoology and Geology; C – Fisheries; D – Medical Science; E – Mathematics, Physics and Metereology; F – Chemistry; and G – Archaeology and Ethnology.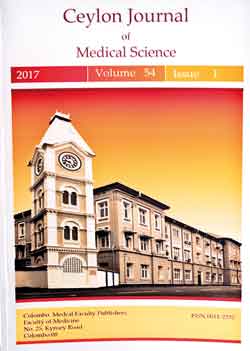 According to Prof. Jayakody most of the early publications were from foreign scholars but subsequently papers from Sri Lankans including Dr. W.S.E. Karunaratne, Dr. P.B. Fernando, Prof. Senaka Bibile, Prof. T.W. Wikramanayake, Dr. T. Velaudapillai, Dr. A.S. Dissanaike, Prof. S.R. Kottegoda, Prof. V. Basnayake and Prof. K.N. Seneviratne were also published.
"Although the papers covered diverse areas, infectious diseases in the fields of malaria, leprosy, helminthiasis and tuberculosis predominated. Subjects related to anatomy, pathology and entomology were also covered," he points out, adding that most papers contained only raw data…..although the research methods and statistical analysis were not as robust, as what we see today, these publications reflected the standard of practice at that time.
Published until 1941, there was a break in 1942. It was handed over to the Colombo University and after eight years it appeared again in 1949, with publication continuing in the 1950s, 60s and 70s. In the latter part of the 20th century, a scarcity of research articles would have been experienced with academics reaching out to regional and international journals. Lagging behind, the last publication was in 2010.
These experiences will set the future goals for the CJMS – to preserve this "treasure" as Dr. Wanigasinghe rightly calls it, a not-so-easy but doable concerted effort would have to be made to publish it more often, as a quarterly every year and by the time the 100th anniversary draws round in seven short years, be a sought-after indexed journal.
Call for contributions for next issue
With the aims and scope of the CJMS being "to strive to be a forum for all health professionals to publish original research and review articles in English on medicine and health", its Editor invites contributions to its next issue.

The focus of the CJMS is to provide a platform to those involved in diverse fields of medical science to publish high quality research to facilitate the promotion of evidence-based medicine and thereby improve health care. It is open to doctors, researchers, scientists in medical sciences and medical education and students in both medical and allied health sciences.

This peer-reviewed, open-access journal published by the Colombo Medical Faculty Publishers may be accessed on: http://cjms.sljol.info

Those seeking more information may contact the Editor on e-mail: editor@cmjs.cmb.ac.lk or jithangi@pdt.cmb.ac.lk

The postal address is: The Editor, Ceylon Journal of Medical Science, Faculty of Medicine, University of Colombo, 25, Kynsey Road, Colombo 8, Sri Lanka.