Appreciations
View(s):

Those unforgettable and  informative demonstrations

Prof. Milindu Lakshaman Tennekoon Kannangara

Emeritus Professor of Physics and a former Head of the Department of Physics at the University of Colombo Professor Lakshaman Kannangara, passed away on September 26.

Like his many students, I was immensely privileged to have known him, first as a teacher and later as a colleague, and to benefit from his vast experience as a true academic and scientist.

Professor Kannangara was born on March 29, 1925. He graduated from Royal College, Colombo, in 1943 and entered the University of Ceylon, where he obtained a BSc Honours Degree in Physics in 1948. Soon after, he joined the University as an Assistant Lecturer in Physics and proceeded to theUniversity of Manchester, UK, where, within the research group of Professor George Rochester, he studied the properties of cosmic rays in the atmosphere. During this time, Rochester and his students discovered the so-called strange particles – which many regard as one of the greatest discoveries in physics not to be rewarded with a Nobel Prize. For his work in Manchester, Professor Kannangara was awarded the degree of Doctor of Philosophy in 1953.

Returning to his motherland, he then served as a Lecturer in Physics at the University of Ceylon until his promotion to the grade of Associate Professor of Physics in 1970. He was further promoted to Full Professor and Chair of the Department of Physics in the University of Colombo in 1979 and held this position until his official retirement from active duty in 1990.

During this period, Professor Kannangara was just one of a handful of scientists who successfully continued to conduct active research in Sri Lanka. His work on geomagnetic micropulsations resulted in a series of papers in the Journal of Geophysical Research, the leading scientific journal in geophysics. These findings were significant as they were based on observations made in the proximity of the geomagnetic equator, which runs right through Sri Lanka. His work served to demonstrate that quality research could be carried out in Sri Lanka and published in highly reputed international journals.

His achievements received international recognition when, in 1967, he was elected a Member of the American Geophysical Union and in 1971 to Fellowship of the Institute of Physics, London.

In the early seventies, together with his close friend and colleague Professor Osmund Jayaratne, he initiated a research programme in atmospheric electricity and lightning physics at the University of Colombo. This programme produced many outstanding researchers and gave rise to many scientific publications. He was instrumental in setting up a collaborative agreement with the International Seminars, University of Uppsala, Sweden, which continued to serve the Universities of Colombo and Uppsala with great advantage for many years.

In view of his academic achievements, service to the University system and in recognition of his invaluable contribution to national development, Professor Kannangara was conferred the Degree of Doctor of Science Honoris Causa in 1990.

Throughout his illustrious career, his many students will always remember him as a dedicated teacher with a sound passion for Physics. Prof Kannangara was that rare breed of teacher who always placed emphasis on the basic principles of science. He would take great pains to explain the fundamental principles in detail before describing how they may be applied in the real world. He often carried this out by means of very informative lecture demonstrations, whether it was a beach ball suspended in the airstream from a vacuum cleaner to demonstrate Bernouille's Principle of Fluid Motion or a student cajoled into sitting on a rotating stool, carrying two dumbbells, to demonstrate the Law of Conservation of Angular Momentum. Both these demonstrations were received with tremendous enthusiasm and served to instil a love of science in many of his students.

I well remember another time when he was teaching a large first year class in the Old Physics Lecture Theatre; he brought with him a bow and arrow to the class. He then proceeded to explain how potential energy is converted to kinetic energy by literally shooting the arrow through the lecture room door. Unfortunately, our trusted Laboratory Technician, Mr Silva, happened to be passing right at that moment and received the shock of his life when an arrow whizzed past an inch of his bald head and landed in the quadrangle outside!

In later years, he persuaded a group of us students to build a model to demonstrate the occurrence of lightning. The lightning bolt was simulated by applying a high voltage across two electrodes using an induction coil. At the same time, a young first-year student was asked to stand at the back and rattle a sheet of aluminium to create the sound of rolling thunder. An elaborate model was constructed, with matchbox houses and plasticine cars on a green cardboard landscape representing the ground. A short distance above the ground was suspended a canopy of cotton wool, representing a thundercloud. One of the electrodes was hidden under the cardboard and the other was embedded within the cotton wool cloud. After a long and interesting description of the phenomenon of lightning Professor Kannangara announced to the large gathering of schoolchildren and teachers that we will now produce a lightning bolt. The order was given to switch the induction coil on. Lo and behold, there was a bright spark and a mighty roll of thunder! But what no one had anticipated was that cotton wool and cardboard were inflammable materials. In an instant, there was not only lightning and thunder but a fire to go with it. The induction coil was quickly switched off and disconnected. Mr Silva was hastily summoned with a bucket of water to douse the flames. I still recall a visibly flustered professor telling the half-drenched first-year student with the aluminium sheet that he could stop rattling it now!

Professor Kannangara is fondly remembered with gratitude by many of his students and colleagues not only in Sri Lanka but now scattered through many parts of the world.

 Dr. Rohan Jayaratne
---
God has her in His keeping, I have her in my heart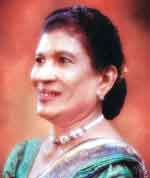 Flora Corea
I met her when we were in our teens representing our schools at a national schools drill display at the Reid Avenue race course. I remember the anxious moments I went through not knowing what I should be talking about when I was totally unprepared for such a meeting. Years later when we were talking on the phone she was reprimanded by the family for talking to a boy and from then onwards there followed numerous restrictions on her freedom. When we were confronted with strong opposition she stood by me and swore that she never would allow anyone to come between us. Despite the disparity there was in our family backgrounds; she coming from a business background and a Colombo 7 upbringing and I, coming from a professional background and a traditional Chilaw-Corea upbringing, apart from our different religious faiths, must have contributed to her family's obsession. Whilst she anticipated stiff opposition from her side, as for me, I knew that Flora had the charm that would click with my parents. On my part I gave her the assurance that I would not in any way be instrumental in bringing unpleasantness or any form of hostility between father and daughter hoping that when it came to the crunch, differences could be ironed out. This unfortunately did not materialize during his lifetime.
When the opposition continued she stood by me fired by a steadfast devotion, never flinched, never worried and never despaired. The courage and determination she showed in the face of almost insuperable odds is something I admired and will never ever forget. We cancelled a hotel booking for a wedding reception and an order for jewellery which had been made without her consent and took the decision to get married by special licence.
My ambition was to be a lawyer like my father with some additional accomplishments which doubtless would have been a pleasant surprise to him. With the situation going from bad to worse on Flora's side I had no option but to abandon my plans and take the only course of action that seemed plausible. We got married by special licence, had lunch and I dropped her in school agreeing to come the next day and drive off with her personal belongings.
What followed was an unexpected drama. When all the doors and windows were closed she climbed the window sill in her upstair bedroom and jumped to the ground with the marriage licence in hand. Fortunately she landed on the garden dustbin which broke her fall. Armed with the marriage licence there was nothing anybody could do to prevent her from joining her legitimate husband. When she finally left the house my cousin suggested that she be shown to a doctor which we did at 1.40 in the morning. With no visible external injuries the doctor who was a family friend wanted to see an X-ray first thing in the morning joking that if Flora had cleared such a height in the Olympic Games she would definitely have won a gold medal for herself!
I next changed my original plans, joined a leading multi-national company, enjoyed working and excelled in my job. Together, Flora and I started putting our plans into operation. I bought the wedding rings with my very first salary and until we were able to furnish our three-roomed house with genuine furniture used strong wood boxes padded and draped with elegantly pleated skirtings to serve as drawing room furniture without anyone knowing what was concealed underneath.
The family we had planned for was complete with the addition of four lovely children – Ramani, Dilhani, Sharmini and Sanjeeva adding immeasurable value to our lives!
Flora, has gone leaving a void which cannot be filled and I am just picking up the bits and pieces of a shattered life and putting them together capturing the unforgettable incidents that gave meaning and purpose to our life. She was a rare human being with sterling qualities, always caring for others and making them feel loved and wanted. The many nice things that are being said by those who knew her are a testimony of the lovely person she was!
God has her in His keeping,
I have her in my heart
Sri Sangabo Corea
---
 The emptiness grows as each day passes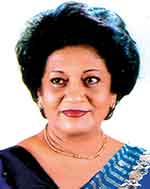 Soma Edirisinghe
A day that's filled with sad memories looms over me recalling the day she left us so very suddenly. As time goes by some say the heartaches subside, but the feelings in my heart today are just the same even after the lapse of two years.
I often think of the good old days when we were kids, the seven of us together, laughing, joking, teasing and even quarrelling with each other. Those were happy years and then when we grew up still the bonds of affection never left us, understanding each other, helping each other and extending to each other support and co-operation in happiness as well as in times of calamity.
We have lost her now – things have changed – the light in our family is gone.
Society especially the not so rich may be missing her the most remembering the help she extended to them with love and affection, easing their burdens whenever possible. She was so loving, caring and helpful. I miss you terribly darling sister. As each day passes the emptiness grows, it is not difficult to keep back tears but my aching heart will always remain with me.
This is samsara – the never ending stream of life. You meet – you love and then depart. As the years go by slowly, in our hearts she will always stay, loved, missed and remembered every day.
Karunakka
---
 Death follows life
Ruwanpura Sherman de Silva
This life comes to an end like a streak of lightning, a bubble of water, a dewdrop on a leaf, or a line drawn on water.
Death can never be avoided.
May he attain the Supreme Bliss of Nibbana

                                                                                                                                                                     Neleeka de Silva
---