Visakha achieves hard fought water polo win over Ladies
View(s):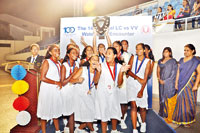 Visakha Vidyalaya achieved a hard fought ten goals to nine victory over Ladies College to register their seventh successive win in the M.N. Edussooriya Trophy annual water polo clash at the Sugathadasa Swimming Complex last Tuesday. In an absorbing game of water polo the final result was in balance, stood nine all at the final minute of the fourth quarter. Just few seconds to go for the final whistle Shaleena Pieris of Musaeus with a powerful throw from the centre line beat the Ladies goal-keeper to register her alma mater's seventh win making the glittering silverware on its way to Vajira Road.
Visakha dominated the first quarter scoring four goals. Shaleena Pieris and Janeesha Katuwapitiya scored two goals each to Visakha to lead four-nil at the end of the quarter. Visakians completely out played the Ladies lasses both in attack and defence. They were unsettled by the Vajira Road lasses who took full advantage of their mistakes.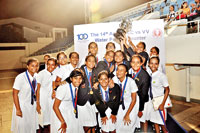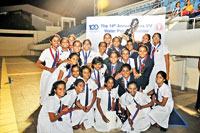 It was completely a different display by Ladies College outfit saw them matching the Visakhians to account for four goals. Two goals by Kanchana Swaminathan, and a goal each by Rheanna David and Shenara David took their score to four goals while Savini Gunawardene (one goal), Nadishka Senanayake (two goals) and Shaleena Pieris (one goal) in the second quarter saw them improving Visakha's tally to eight. Visakha led 8-4 at the close of the second quarter.
Ladies, continuing from where they left in the second quarter scored two more goals through Shenara David and skipper Nimashi De Silva. Visakhians had to fight all the way for their solitary goal scored by Savini Gunawardene. With the score standing 9-6 in favour of Visakha the third quarter came to a close. It was a do-or-die battle in the final quarter with Ladies wingers being fed with fine passes which made them score three more goals. Skipper Nimashi De Silva leading from the front scored two goals in succession while Dunyasha Hewagama scored a goal. At this stage with few second from the long whistle to scores dead locked at nine each. Then came the goal which playmaker Shaleena Pieris will remember for ever which took Visakha to a nail biting finish to be the proud owners of the M.N. Edussooriya Trophy for yet another year.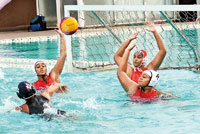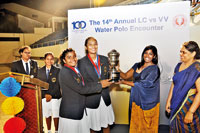 Visakha's ten goals came through Shaleena Pieris (4 goals), 2 goals each by Janeesha Katuwapitiya, Nadishka Senanayake and Savini Gunawardene. The main goal scorers for Ladies were Kanchana Swaminathan (2 goals), Rheanna David (1 goal), Shenara David (2 goals), Nimashi De Silva (3 goals) and Dunyasha Hewagama (1 goal).
Ajantha Silva and Sumith Ranasinghe controlled the game.
The Under 15 encounter saw Ladies scoring a massive 17 goals to 4 goals win over Visakha Vidyalaya.
– Lakshman Ranasinghe; Pix by M.D. Nissanka