Road deaths in Sri Lanka are as natural as they are tragic
View(s):

Reckless driving, negligence and fatigue contributed to a spate of accidents increasing the death toll compared with last year.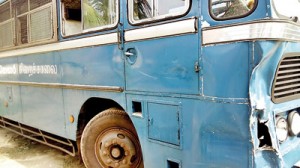 National Council for Road Safety Chairman Sisira Kodagoda told the Sunday Times that most accidents caused during the past two weeks were due to drivers' recklessness and negligence.
"Falling asleep while driving, with no rest before the journey, has led to many accidents recently, while overtaking has also been a contributing factor," he emphasized.
Mr. Kodagoda revealed that last year accidents resulted in 3,117 deaths, of which 1,735 occurred between January 1 and August 31. The corresponding period this year has seen an increase by 54 deaths to 1,789 deaths.
According to Traffic Police Headquarters statistics, there were 39,086 accidents last year, while 18,980 accidents occurred in the first six months of this year.
The statistics further reveal that, in 2016, there were 10,754 accidents involving motorcycles, and 5,383 accidents during the first six months this year. There were 7,061 accidents involving three-wheelers in 2016 and 3,456 accidents in the first six months of 2017. There were 4,555 accidents involving lorries in 2016, and 2,101 accidents in the first six months of 2017. There were 6,120 accidents involving cars in 2016 and 2,959 accidents in the first six months of 2017. There were 2,547 accidents involving private buses and 839 accidents involving public buses in 2016, with 1,257 accidents for private buses and 400 accidents for public buses in the first six months of 2017.
Mr Kodagoda added that motorcycles caused 1,251 deaths and three-wheelers caused 370 deaths last year, while 694 motorcycle deaths and 241 three-wheeler deaths have been recorded in the first six months of this year.
Police Media Spokesperson, Ruwan Gunasekara told the Sunday Times that the increase in road accidents during this time of the year was also due to unfavourable weather conditions.
He said the reasons for an accident is the condition of the vehicle, driver's negligence, driving under the influence of liquor and falling asleep at the wheel, were among the main reasons for accidents .
Senior Superintendent Gunasekara said pedestrian negligence also leads to accidents. Pedestrians should be mindful of their surroundings while on the streets. He emphasised that enforcement of the law governing the rules and regulations, was also as important.
"All these factors are interconnected and close knit, as a failure in one can cause accidents," he said.
Senior Professor- Dept of Transport & Logistics, University of Moratuwa, Prof Amal S. Kumarage, said globally, accidents were the leading cause for traumatic death.
Commenting on Sri Lanka he said, "A lot of accidents occur during long distance journeys when people travel in groups, with a larger proportion of accidents occuring when going to attend functions including funerals. The reason maybe the driving environment being not conducive to the driver or, he is under the influence of alcohol," he said.
He stated that it is necessary to improve drivers' training, vehicle safety standards, societal concerns and endure strict enforcement of road rules. According to Prof. Kumarage, if one area doesn't improve, it can ultimately result in an accident.
A Senior Police Official said, if the public follows traffic guidelines, it could curb the number of accidents. "Lane discipline is just one such initiative that is helping road users," he said.
According to him, the increasing number of vehicles and the lack of road space to accommodate too is a major dilemma. He believes that one reason for the increase in number of vehicles on the road is that many youth have dropped out after their secondary education and taken up to driving as a profession.
National Hospital Director Dr Anil Jasinghe told the Sunday Times that, last year, 7,972 road accident victims were admitted to the hospital, while, as at September 7, this year, 6,306 victims were admitted to hospital. Of those, 3,933 victims, or 54%, were involved in motorcycle accidents, 1,125 or 22%, were involved involved in three-wheeler accidents, 352 were involved in bus accidents, and about 120 each in accidents involving lorries and pickups.
"Smaller the vehicle, higher the number of accidents. It is evident that larger vehicles cause less injuries and heavy vehicles like lorries generally hit stationary objects, whereas smaller vehicles tend to cause more accidents and damages," he said.
Three from one family die in accident on way to a wedding
Three members of the same family were killed in an accident in Batugedara, Ratnapura, last week on their way to a wedding in Homagama after their car was involved in a collision with a cab, Police said.

The family, from Ampara, had left home around 8.30 p.m. on September 1, and the accident occurred around 1.30 a.m.
Police have collected CCTV footage from nearby residences for their investigations.

The victims were identified as Wasantha Pradeep, his parents Amarasena Gunapala and Puspa Ranjani. Wasantha's wife Sudharma Dias is in hospital.
The driver of the cab who is also receiving treatment was released on bail after his licence was suspended.