Kafka's footprints in Lankan cinema
By Susitha R. Fernando
Dharmasena Pathiraja's'Swaroopa' to be released on August 25
View(s):
One of the leading 20th century writers, Franz Kafka's best known novel "The Metamorphosis" adapted to a cinematic venture by veteran filmmaker Dr. Dharmasena Pathiraja as 'Swaroopa' or 'Self Image' is ready to be released from August 25.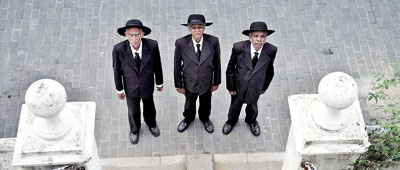 Considered as one of the difficult novels to be adapted to audio-visual medium due to its complex and complicated storyline Pathiraja has taken the challenge and made an interesting and enlightening work of cinema.
Writing a summary on the story 'Swaroopa' Dr. Sumathy Sivamohan noted;
"The horror, the horror! It is early days yet for the postcolonial nation of Sri Lanka. The cheer of a lovely morning is shattered, and its gentle rhythm shaken when one fine morning Gregory Samson a travelling salesman for a pharmaceutical company wakes up to find himself confronted with the tragedy of his image, in a story of love, betrayal, loss and despair,".
Set within the contours of a rented apartment, the story revolves around a middle class family which is depending solely on the income of Gregory, a travelling salesman for a pharmaceutical company. Gregory bears the bulk of the financial responsibilities for the rent of the apartment, the violin lessons for his sister, and the general upkeep of the family. As a young medical representative who has to travel a lot. He forms relationships in his travels which do not seem to be lasting. One fine morning Gregory wakes up to find himself transformed into a giant insect.
Produced by Mohan Mabotuwana, screenplay based on Franz Kafka's "The Metamorphosis" is by Dr. Dharmasena Pathiraja and Eric Illayapparachchi.
Director of photography is Donald Karunaratne, editor Elmo Halliday, art director Lal Harindranath and music is by Nadeeka Guruge.
The film is to be screened in Ridma circuit cinemas around the country.