'Fenghuang Lou' Chinese food at its best
View(s):

Fast becoming one of Colombo's best Chinese restaurants 'Fenghuang Lou' brings it exquisite flavours to discerning diners in the city. The renowned restaurant is currently catering to a large number of its clients at No. 43, Jawatta Road, Colombo 5.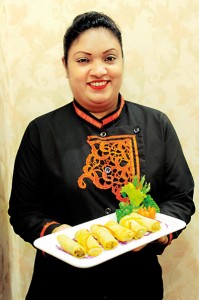 Fenghuang Lou is reputed for its wide variety of Chinese dishes made available in its delicious a la carte menu. Each dish derived from timeless recipes that have been adapted into a modern context intricately prepared. It is a restaurant where any person with a passion for Chinese food can truly experience wholesome Chinese dishes, served by a friendly and efficient staff within a relaxed ambience bringing forth an exceptional service.
The popular dishes at the Fenghuang Lou are 'Hot Butter Cuttlefish', 'Panko Prawns', 'Chili crab', 'Devilled Chicken', Vegetable Spring rolls, 'Seafood Dumpling' and 'Prawn Balls',. Chicken Fried Rice, Indonesian Fried Rice, Devilled Prawns, Stir fry vegetables, Sweet and Sour Fish are some of the popular dishes with the Sri Lankan clientele. Speaking at the press briefing, Managing Director, Rizmy Hassan stated that the day to day operation at the restaurant is well above the rest in the city.
'We are very proud to be operating Fenghuang Lou which has attracted a large number of Chinese expats and tourists, besides – our own Sri Lankan clientele, all who has contributed largely towards our popularity in a very short span of time here in Colombo' expressing his pleasure on how the restaurant has fast become a hallmark restaurant for Chinese cuisine amidst a large cluster of Chinese restaurants already operating in the city' said Rizmy Hassan, an experience hotelier, who is also the founder of Fenghuang Lou.
He further added that he is proud to announce that the restaurant's kitchen brigade comes under a leading Chinese chef from the Shandong province of China, supported by our own Sri Lankan Chef – both, who contribute as a dynamic duo to keep the restaurant's image as a 'notable dining hub with palatable Chinese food' served to all its diners.
'Evoking a sense of taste as well as comfort is our motto' said General Manager –Rohana Perera, who continued to say that his cooking team at Fenghuang Lou combines the highest quality ingredients and prepares authentic recipes (with no added MSG or other harmful additives) to provide a truly healthy and delicious Chinese dining experience. At Fenghuang Lou Chinese restaurant Sri Lankan guests can also taste the best of upscale cuisine in an ambience of sleek and contemporary setting, he added further.
The team here, at Fenghuang Lou aims to serve its guests with the best of service, offering a delicious range of bold flavours and tastes that are bound to excite any discerning diner's senses.
'Fenghuang Lou Restaurant also operates an extensive take away service with a large variety of dishes for one to choose from and have it delivered to one's doorstep within the city at no extra cost. Fenghuang Lou always looks forward to meeting and treating all it's guests to an enjoyable and memorable experience at all times' said Sales and Marketing Executive Shanmie Rasangika Gamhewa.
Besides offering a gracious in-house dining experience Fenghuang Lou also operates an extensive Take Away service with a large variety of dishes for one to choose from and have it delivered to ones doorstep within the city at no extra cost – Fenghuang Lou also has 'Executive Lunch Pack' delivery service with four different menus to select from at affordable rates, delivered to offices in the city limit. Fenghuang Lou Chinese restaurant is open daily from 11.00 am onwards for lunch and dinner from Monday to Sunday
For more details log onto www.facebook.com/fenghuanglou.lk