S. Kithushan and S. Sudarmathy wins first leg in Jaffna
Nestomalt Mini Marathon
View(s):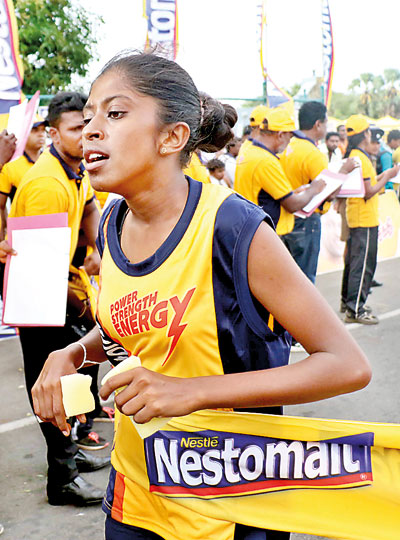 S. Kithushan and S. Sudarmathy won the first leg of the Nestomalt Mini Marathon that was held in Jaffna last Saturday. Kithushan of Vavuniya Tamil Central College won the Boy's segment with a timing of 1 hour and 14.50 minutes to complete the course of 21.5 kilometres, while Sudarmathy won the Girls' category.
The 21.5 kilometre Mini Marathon which was flagged off from the Duraiappah Stadium in Jaffna which covered the route of Kokuvil Kondavil, Inuvil, Maruthanarmadam and Chunnakai. Following Kithushan were P. Jenanthan of Oddusuddan MV and R. Rinujan of Kokuvil MV Jaffna in the boy's category while S. Vithusha of Katchilaimadu TMS Mullaitivu and T. Densika of Kilinochchi MMV finished behind at second and third respectively in the girls' category.
In the boys and girls categories of the 5 kilometre race, held concurrently starting from the Duraiappah Stadium to Thaddar Theru and back, M. Anojan of Nelliady Central Jaffna emerged the winner in the boy's with a timing of 18 minutes and 25.70 seconds. The girl's race was won by Oshini Shalika of Palugoagama MV Gatelawa, who clocked timing of 21 minutes and 22.40 seconds.
The Nestomalt Mini Marathon conducted by the Minister of Sports and sponsored by Nestle Lanka saw the participation of 125 in the boy's and 22 in the girl's in the Mini Marathon while over 1700 was in the fray in the 5km event. The first leg of the Mini Marathon was held for schools in the Northern, East and North Central provinces. The second leg of the event will be held in Kegalle for schools from North Western, Sabaragamuwa and Central provinces while the third and final leg will be held in Matara for schools from Southern, Uva and Western provinces. The grand final, which will feature all top winners from all three legs, will be held in Colombo in September. - NA