Was Mathews the ultimate loser? NO! We don't think so
View(s):

Please, could someone within the Lankan hierarchy — I mean in the government — draw up a strategy to prevent the Afghanistan cricket team from obtaining entry visas to Sri Lanka, in the foreseeable future? I am quite confident that I need not explain this plea of mine.

We do admit that all's not well within the mechanism of the anatomy of Sri Lankan cricket, and today, what I am trying to ascertain is whether this wound was a self-inflicted one or, it is a passing poser which our cricketers would force the others to forget.

On Wednesday, Lanka's Mr Cricket, Asanka Gurusinha, while admitting there is nothing lower the Lankans could plummet to as a cricketing unit, he was mighty sure that while languishing at No.8 in the ICC rankings, we Lankans could beat Afghanistan with a whistle.

By now you would have read what former National Cricket Captain Angelo Mathews spelled out in his farewell speech. What else could he do as a player who is still under SLC contract and what he had to say was well constructed, with everything pure white and sugarcoated. Nevertheless, at one point he could not hold back. He boldly stated that this was not the first time he had toyed with the idea of calling it quits.

It was only the other day that I discovered that the whole Charlie Austin episode was inflamed by interested parties. People in the know were more than sure that it was a ploy engineered to mount pressure on the then incumbent National Cricket Captain Mathews. At the same time, the real reason for former National Coach Graham Ford to resign was the interference with selection matters by outsiders. The poor bystander in that episode was Mathews and he was under constant pressure.

When on Wednesday the changes in the captaincies — Dinesh Chandimal, Test Captain and Upul Tharanga ODI captain — were announced, Sanath Jayasuriya made a plea to the national media to understand the plight of the national cricketers and refrain from subjecting them to further pressures. He said that it is an important juncture in our cricketing chapter and the players should be given that cushion.

At the same time, if Chief Selector Sanath Jayasuriya could just probe, he would realise that, even after Sri Lanka lost to Zimbabwe in the ODIs, the national media did not go on a witch hunt against the players. The media knew where the fault lay and took Sri Lanka Cricket's system to task. They said that Sri Lanka's cricketing system had plummeted to zero.

The main culprit who put pressure on the cricketers was none other than Sports Minister Dayasiri Jayasekera who made an absolute hash of things by pulling out that girth issue of the players. Yes, that upset the players direct, and hasty Malinga, wittingly or unwittingly, jumped into the monkey trap, which resulted in a suspended six-month ban on the player.

Today, Chandimal is the Test Captain. But yesterday, he was still a good player and a senior one at that. Yet, he was dropped for the ODI series against Zimbabwe. On paper, while playing a side like Zimbabwe, you include your problematic cases on board and let them get solved there. But, in this instance, Jayasuriya and company ignored him altogether. Yet, someone made mention in passing that Chandimal does not dissolve in Malinga's cup of tea. Wonder how true that statement is and was it why Chandimal is out of the white-ball setup?

Chandimal's fault was described as poor strike rate which reads at 77.11. But, in 128 ODIs he has scored 3,211 runs at an average of 33.44, which is more than decent, and that includes four centuries and 21 half-centuries.

Well, Jayasuriya and Co. should not resort to this lowly habit of dog-eat-dog.

Manager Asanka Gurusinha is trying to understand the plight of the young cricketers and says it is very important for the players to be in a proper state of mind while in international cricket, and in the present context, their mental stability is very important.

But, is the very institution in a proper state of stability? It is the SLC that comes out with different tantrums almost repeatedly. First it was the former Mr. Cricket of the present SLC setup – Aravinda de Silva. Like a staircase of high-story building collapsing, the resignation of Aravinda de Silva hit our cricket like a thunderbolt.

Then came the resignation of Coach Graham Ford – he was hounded till he collapsed.

Then the disappearance of the man who was in charge of international cricket – Jayantha Dharmadasa, is still a topic of discussion among insiders. I wonder now, after the Zimbabwe debacle, if Dharmadasa would have the heart to make a comeback. If he does, he is either lionhearted or like the ground-boys at the Sooriyawewa Stadium, in the aftermath of the last ODI. It all depends on from which angle you look at it. On top of all these occurrences, there came the resignation of National Cricket Captain Angelo Mathews.

Do you think the national cricketers who have to live in the midst of all this are oblivious to all these manoeuvres? No, they are very much alive to the situation and they know there is instability on their dining table.

For the SLC executive committee memebers, this is pastime and they have the means of a follow-up if the ploy fails. For example, if the Sports Minister decides to form an interim committee tomorrow, all the members of the Executive Committee get into their vehicles and drive back to their usual livelihoods. But, for the cricketers, this is their livelihood. The moment they stop playing cricket, they don't get bacon on their table. Everyone who plays cricket does not become a Malinga or a Sangakkara, where they could live happily ever after.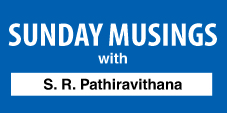 That is why we say, if the cricket authorities do love the game and are genuinely interested in the wellbeing of the game, they must also be sensitive to the feelings of the cricketers. Just because you get a cap to represent the country, you cannot concoct a winning combination. A winning combination is a state of mind.
Just imagine players like Sachith Pathirana, Dasun Shanaka, Sandun Weerakkody, Jeffrey Vandersay, Amila Aponso, Lahiru Gamage, Ashan Priyanjan, Chathuranga de Silva and Milinda Siriwardena come in and out of the system without any plan or system.
In short, the insiders expected Mathew's resignation. Finally, it was the culmination of a well-planned coup enacted by the system's bigwigs at a huge cost. Why? because the authorities were under the impression that through Mathews the Sanga-Mahela doctrine is still walks to the middle. I feel even if it is so what harm could it bring? They were two modern day greats and still are!
Yet in the melee, the loser is not Mathews. Right now he is SLC's most valuable player in all three formats in their vault. Above all, he now he remains in cricket, sans any unwanted pressures. Thank God, he can let his bat do the talking, while the rest play looking over their shoulders.