Sri Lanka to host International Junior Golf Championships
View(s):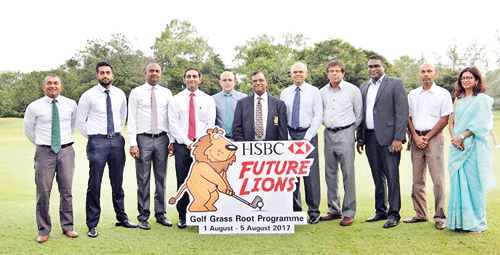 The Royal Colombo Golf Club will be the centre stage when the Sri Lanka Golf Union, the national body for Golf in Sri Lanka together with HSBC, launches Sri Lanka's first ever International Junior Golf Championship.
The tussle for supremacy will be teed off between Sri Lanka, Pakistan, India and Bangladesh.
The event which has been initiated by the Sri Lanka Golf Union (SLGU) – Junior Sub Committee aims to raise the standard of Junior Golf in the country by identifying Sri Lanka's young golf talent and nurturing them for future national and international representation. The event is planned to take place at the Royal Colombo Golf Club on 10 August this year.
Priath Fernando – President of the Sri Lana Golf Union stated, "The Sri Lanka Golf Union identified a few years ago that there was a wealth of talent among its junior golfers and created a strong junior golf sub-committee headed by Niloo Jayatilake to create more opportunities for our juniors to compete. From just one Annual Junior Open being played about five years ago, the number of annual events for junior golfers increased with two regional opens, a match-play event and annual ranking being added.
"Last year we sent juniors to compete in India for the first time and this gave us the idea to create an International Junior Championship for National Junior Teams from Sri Lanka, India, Pakistan and Bangladesh to compete."
HSBC, a major promoter of Golf worldwide will be the Title sponsor of the championship. They also conduct grass root Golf programmes to popularise the sport in many countries from UK, Hong Kong and Abu Dhabi. Further, the bank has organised two popular golf tournaments in Sri Lanka, the HSBC 5 Club Golf Tournament (22nd consecutive year) and HSBC Premier Golf Championship (5th consecutive year) for golfers.
Preceding the main international Golf championship, HSBC will partner the SLGU to conduct the first ever "HSBC Future Lions"– Golf grass root programme which is open to kidsaged between 8 – 13 years throughout Sri Lanka.This 'open day' Golf event is scheduled between the 1st and 5th of August and spread over four locations namely Nuwara-Eliya, Kandy, Anuradhapura and Welisara (Navy – Aqua range) in 2017 and will see further expansion in the years to come.
All current junior golfers in the country will have the opportunity to participate in the HSBC Junior Golf Championship, an individual event on 9 August at the RCGC. This will be based on four age groups and categorised as; 15-18+ years (Gold Division), 12-14+ years (Silver Division), 10 -11+ years (Bronze Division) and 9 years and under (Copper Division).
The international Junior Golf team championship will take place on the 10th of August and each of the teams will comprise of four boys and two girls. The event will be conducted by the Sri Lanka Golf Union (SLGU) and the format structured on a hybrid version of similar team championships played worldwide such as Asia Pacific Golf Team Championship and the Ryder Cup.
Niloo Jayatilake, Chairperson of the Junior Sub Committee – Sri Lanka Golf Unionsaid, "We are very grateful to HSBC and the other sponsors for their magnanimous response to develop Golf in Sri Lanka. Golf is one of the fastest growing sports worldwide and being one of skill, we have the ability as we have shown in cricket to produce players who can compete at the highest international level. We believe it's a great opportunity for schools to register and give exposure to students to the game of Golf."