Drug misuse keeps haunting Lankan sports
By S.R. Pathiravithana
View(s):
Upon the withdrawal of 400metres athlete Pradeep Kumara who was brought back home from the 22nd Asian Athletic meet in India last week due to failing a drug test, the Lankan athletic sources are abuzz with the discovery of the iceberg.
According to a very senior Sri Lankan athletic official they have stumbled upon evidence to say that there are more than a dozen more such cases and the list of names are in their possession.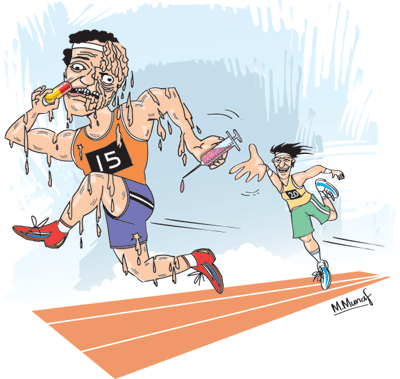 "While we were questioning Kumara we began to probe into the issue and what we have stumbled is quite starling.  In athletics alone we have got the names of at least a dozen of others who are into performance enhancing substances and sometimes the count may be bigger".
The source said that this problem is a direct result of the unrestricted availability of these performance enhancing substances in the market and they are freely available through most of the gym institutions that have sprung up especially in the hubs.
The source further added "We are also in the know how about a certain athlete who is involving in promoting these banned substances. He not only sells the substance, but, also sells the masking agents so that the culprits could not be detected".
However it is not clear whether Sri Lanka has enough laws pertaining to curb the sale of such substances or prosecute such person who are peddling these substances.
Performance enhancing substances and Lankan sports are no strangers. From the time that Lankan sprinter Susanthika Jayasingha was involved in a controversy about the usage of Nandrolone.  Lankan athletes and the officialdom are familiar with issue.
Earlier in an encounter with Dr. Seevali Jayawickreme, Consultant Physician Sports and Exercise Medicine explained the harmful effects of these substances — "Nandroline (Decadurobolin) is an anabolic steroid which is used to resuscitate a cancer patient who is very bad or badly anaemic. Nandrolone allows you to work more and more and burn your body fat so that you can build up your muscle. That is what is needed for a person who sprints. Short burst sprinters, weight lifters have been using these type of drugs.
"The bad effects of Nandroline are: it virtually destroys your whole body. For males you will lose your hair, you will develop pimples, will develop breasts and ultimately end up becoming impotent. It also can affect the heart and liver of both sexes.
"For women, it works the opposite way. She will develop hair on her body; it changes the tone of her voice to that of a male and some other psychological and physical changes too". This is what will happen in prolonged use of this substance."
Talking of Prednisolone, (a substance that was detected in a urine sample provided by Sri Lanka cricketer Upul Tharanga), Dr. Jayawickreme said" "Prednisolone is also a steroid. It is used for asthma and joint ailments. It is harmful to those with high blood sugar. If Prednisolone is used we may give it as a puff or an injection, but, to an athlete this drug is not given in tablet form. Long term use of this substance also could lead to similar negative physical effects as above. Besides, it could also contribute to a rise in blood sugar levels."
Another substance that is commonly used in Sri Lanka is ventolin. If a sportsman or woman is an asthmatic, he or she has to do a lung function test and prove that he or she is in need of the medicine. There is a thing called therapeutic usage exemption."
Since of late Sri Lanka has established the Sri Lanka Anti Doping Agency. But, that has not vented the drug abuse of the athletes and other sports men and women.  Just prior to Pradeep, 100m runner Himasha Eshan  and 400m athlete Premila Piyadasa went through the sleuths, but, with latest revelation it does not seem to be abating.