Tortoise catch sheds light on another front in criminal wildlife trade
By Kasun Warakapitiya
View(s):
Detection of a massive number of star tortoises on a fishing boat off Kalpitiya has raised fears that smugglers are plundering Sri Lanka's reptiles from the wild for the illegal trade.
Recently, two suspects were held with 2,089 star tortoises from India in a fishing boat intercepted by the navy last Sunday at five nautical miles off Kalpitiya during a patrol. Twenty one of the star tortoises are now dead and the rest are in the care of a facility under the Zoological Gardens.
The navy spokesman Lieutenant Commander Chaminda Walakuluge said:
"This was the first time we detected tortoise smuggling at sea."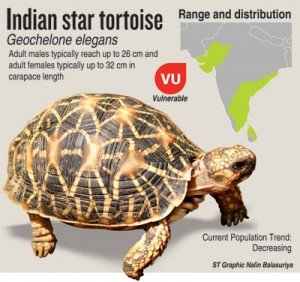 The suspects were handed over to the customs and later remanded after being produced in court. Initial inquiries have shown that the tortoises were to be sold at US$50 each (Rs 7,664), after being smuggled out of Sri Lanka.
Customs sources suspect the star tortoises are to be re-exported. The customs media spokesman Dharmasena Kahandawa said the suspects will be questioned.
The former customs deputy director, Samantha Gunasekara, told the Sunday Times that foreign and local tortoises are traded illegally to Thailand, Indonesia and Singapore.
Sometimes, these reptiles are brought to Sri Lanka from Chennai to be traded to Singapore from where they reach Europe, including Germany.
Mr Gunasekara who was also the founder of the customs Bio Diversity Protection Unit, said the origin of the star tortoises needs to be established because if they are released into the wilds they can destroy the existing tortoise populations of Sri Lanka.
Director General of the Zoological Department, Ms Dammika Malsinghe, said tests will be done. Six of the 2,089 star tortoises were dead at first and by Friday morning 21 had perished, she said. The remaining 2,038 tortoises are being cared for at a facility in Gonapola, Horana.
"The zoological gardens has enough tortoises, we housed the tortoises temporarily to check their health, while Rajarata University Students and Dr Anslem De Silva will do DNA testing to check whether the animals are of Indian origin or from Sri Lanka," she said.
Dr Anslem de Silva, regional chairman of Species Survival Commission of the IUCN and a well known herpetologist, said he will have an assessment by next week.
He explained that it was difficult to establish the morphological differences of the star tortoises of both Sri Lanka and India.
Additional reporting by Padma Kankanamge in Kalpitiya