War footing against dengue
By Kumudini Hettiarachchi and Shaadya Ismail
View(s):
Technical Head and team gears up to defeat deadly epidemic 
Parallel top-down & bottom-up approaches 
Help us – urgent plea to public
We will try our level best to bring the dengue epidemic under control — Give us three months to reduce the numbers affected by illness and those dying, as well as to put in a strong prevention programme.
This is the pledge by Consultant Epidemiologist Dr. Hasitha Tissera who took up the leadership of the National Dengue Control Unit of the Health Ministry this week, becoming the 'technical' head to run it as the country has slithered deep into an abyss of illness and death due to dengue.
From January to June 22, this year, 210 people have died of dengue with the illness affecting nearly 70,000. The Colombo district is the worst affected with more than 100 deaths and around 15,000 being hit by dengue.
Dr. Tissera in an interview with the Sunday Times gave details about the immediate, short and long-term measures that he and his team are hoping to implement to curb dengue, with extensive support from the Presidential Task Force on Dengue Prevention.
He sent out a strong appeal to the public to help the authorities to win the battle against dengue. "Please do your part in prevention actively because to vanquish the dengue mosquito we must join forces not just for the moment but throughout the year."
The immediate challenge is to prevent the high number of dengue deaths, stressed Dr. Tissera, hastening to add that Sri Lanka's clinical management of dengue is excellent but unfortunately in this crisis the deaths are due to massive overcrowding in hospitals and the staff being stretched to exhaustion.
To reduce the number of people seeking hospital admission, all the outpatient departments (OPDs) of major hospitals have been instructed to set up a 'fever room' to which will be channelled all those coming in with a temperature.
These fever rooms will be 'triage' areas where experienced nurses under a doctor will evaluate and monitor whether patients need to be admitted to hospital or sent home with specific instructions on how to manage their fevers with advice when to come back.
An urgent Health Ministry Action Plan has been rolled out on June 1, following an emergency meeting called by President Maithripala Sirisena in the latter part of May, the Sunday Times learns.
The Health Ministry will have an 'Operations Room' coordinating varied actions at different levels, with the goal being the parallel implementation of the top-down and bottom-up approaches for the best outcome, pointed out Dr. Tissera.
To cope with the flood of patients, the bed capacity of major hospitals is being increased, he says. Earlier, in February, the National Institute of Infectious Diseases (Infectious Diseases Hospital) at Angoda had been provided with a dengue-dedicated 30-bed ward.
Consultant Community Physician, Dr. Preshila Samaraweera, attached to the Dengue Control Unit fills in some of the other details on how they are planning to control the current situation by reducing mortality (deaths), morbidity (illness) and destroying mosquito breeding places.
All the big hospitals which comprise Tertiary Hospitals including Teaching Hospitals, Provincial General Hospitals, General Hospitals and Base Hospitals have Physicians who, along with their staff, are handling the heavy caseload, she said, adding that now they are also strengthening some of the District Hospitals and Peripheral Hospitals in districts which have high patient numbers.
This is being done from Wednesday (June 21) at the Peripheral Hospitals of Talangama, Wetara and Piliyandala in the Colombo district and Minuwangoda, Mirigama and Kiribathgoda in the Gamapaha district. These hospitals are also being provided staff trained in dengue-management, she said.
Both Dr. Tissera and Dr. Samaraweera stress on the vital dengue 'prevention' aspect. The Action Plan has specific instructions for specific places and institutions – homes, institutions, schools and public places — on how to check out mosquito breeding spots and destroy them, said Dr. Tissera, with the Presidential Task Force meeting fortnightly for a review.
The authorities involved in this exhaustive campaign are: the Local Government Ministry for local government bodies; the Home Affairs Ministry for government institutions and also down the chain of command from District Secretary to Divisional Secretary to the Grama Sevaka (GS); with overall supervision being the job of the Health Ministry which will monitor through Medical Officers of Health (MOHs) and Public Health Inspectors (PHIs).
This programme will be headed by the relevant MOH with each area committee comprising the local government officials (for Pradeshiya Sabhas it will be the Secretary and for Urban Councils and Municipal Councils, the Commissioners) and the Divisional Secretary.
The MOH will perform risk-assessment and provide technical know-how with the others providing the necessary support along with the tri-forces.
Citing an example, Dr. Tissera said that if there is a fairly large stagnant water area which cannot be cleared, a decision will be taken to either spray a larvicide or introduce larvivorous fish.
Technical input on what the best time to fog to destroy the adult mosquito etc., will also be provided by the MOH.
There will be weekly meetings of the Environmental Police, Divisional Secretary, GS, PHI and heads of schools.
From 11 a.m. to 12 noon each Friday, all schools will be expected to carry out clean-up programmes with the participation of teachers, parents and students.
This is the time when the dengue mosquito is usually not around and as such will prevent children from getting bitten.
Meanwhile, village committees are to be established and home cards issued with house visits being marked by the Environmental Police.
The monitoring mechanism will be strong with weekly reports expected from the field, fortnightly reports from the district and monthly reports at national level.
Fifty utility vehicles have already been sent to high-risk areas to strengthen fogging operations, said Dr. Tissera, adding that this will enhance the ongoing dengue-eradication campaign.
Dr. Samaraweera added that entomological and disease surveillance is conducted by the Dengue Control Unit.
Entomological surveys are conducted every week and predictions made, with an alert being sent to the MOH to conduct source reduction, where necessary.
Think out of the box to tackle crisis- dengue expert

We need to think out of the box to find the answers to the current dengue crisis, says Consultant Paediatrician Dr. LakKumar Fernando who was instrumental in setting up the Dengue Centre in Negombo.

While prevention is the key, case managements in hospitals bursting at their seams need to be streamlined to allow the health staff to concentrate on the people who are really ill, without having to look after a huge number, he said.
Dr. Fernando gives some important advice:

While in the earlier predominant DENV1 and other dengue virus types, there would be only an "occasional" patient whose fluid leakage in Dengue Haemorrhagic Fever would start on Day 2, in this current epidemic of DENV2, "quite a few" are going into fluid leakage on Day 2. In earlier disease spells, the leaking generally started on Day 3.

 Another significant factor is that whereas earlier, the fluid leakage would occur over a critical period of 48 hours, in this epidemic most DHF patients do not leak for 48 hours, but only for around 24-36 hours.

 The fluid leakage in DHF patients in this epidemic also happens "faster for a relatively shorter period", so we have to be careful not to give the patient a volume overload of fluid. If there is an overload, these patients could go into respiratory difficulty, suffering serious consequences.

Referring to the 'triaging' of patients in fever rooms, Dr. Fernando says that it is important to go by a Full Blood Count (FBC) report which has been taken very recently, as close as two hours before, rather than even a day earlier. These triage areas should also have machinery where quick follow-up FBCs can be performed.

"It is only then that the triage staff can decide whether to admit the patient to hospital immediately or send him/her home to rest because he/she is in a stable condition and can come back later if there is a change in that condition. Then we can save beds for the critically ill dengue patients," he points out.

This is Dr. Fernando's advice to people:

 A healthy individual has a normal platelet range of 150,000 to 400,000.

 In a person suspected of having dengue even if the platelet count is more than 300,000, an FBC is recommended to be done once a day.

 If the platelet count is between 200,000 and 300,000, then FBCs are recommended twice a day – morning and evening

 If the platelet count is below 200,000, then FBCs are recommended three times a day.

 While showing such reports to doctors, the patient should eat and drink as normal but avoid red or brown food or drink.

 Keeping hydrated is important as also passing urine in the usual pattern. The general guideline is to drink 2ml per 1kg of body weight and pass 1ml of urine per 1kg of body weight.

 If a person has a body weight of 50kg, that person has to drink fluids at a rate of about 100ml per hour. That person also needs to pass about 50ml of urine per hour.

Meanwhile, Dr. Fernando's advice to the more vulnerable groups is:

 The very young, expectant mothers and those with other illnesses such as diabetes have to be extra careful and seek hospital admission sooner than later.

 Those with diabetes who have poor sugar control, thus having a high urine output even with adequate fluid intake, there could be dehydration. So they need to be extra vigilant.

 If a person is living alone, has no transport, especially in the night and the platelet count drops below 200,000, then that person needs to seek hospital admission immediately.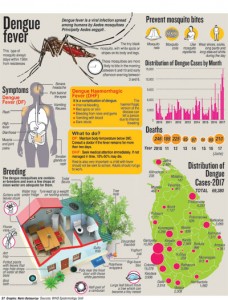 60% of deaths among young adults

Among the 210 who have died of dengue, 60% are young adults, at the peak of their lives, who have generally had no other health issues, laments Dr. Hasitha Tissera.

Usually, the worst outcome in this kind of an epidemic, is among children but fortunately parents are very careful and seek treatment as soon as their children fall ill.

However, young adults think they are more robust and do not seek treatment, sometimes popping certain strong pain-killers such as non-steroidal anti-inflammatory drugs (NSAIDs), which cause more severe illness if it is dengue, he cautioned.

With examinations being around the corner, sometimes these young people do not go to school but still attend tuition classes despite having fever, he said, urging them to refrain from such activity.

"Regrettably, adult patients don't realize that in Dengue Haemorrhagic Fever, severe illness comes when the fever is dropping and the fluid leakage starts. When they think the fever is going down they begin exerting themselves which makes them very ill."

Pointing out that the current epidemic is being caused by DENV2 (there four virus serotypes – DENV1, DENV2, DENV3 and DENV4), Dr. Tissera explained that in the past seven years the country has seen a predominance by DENV1.

As this time, it is a sequential infection, with a different serotype (DENV2), there is a higher proportion of clinical disease and also more DHF. We anticipated it and began setting up High-Dependency Units (HDUs) to deal with the virulence of the disease.

HDUs are a "blessing", according to him, and already these have been set up, based on the numbers seeking treatment, at the Ragama, Kalubowila, Peradeniya, Kurunegala, Karapitiya and Batticaloa Teaching Hospitals.

Meanwhile, Dr. Preshila Samaraweera added that previously the virus doing the rounds was DENV1 and the people gained 'herd immunity' to it since 2009. However, now it is DENV2 and this has become a 'naïve' or 'virgin' infection, with a large percentage of people becoming symptomatic.