A vaccination to prevent cervical cancer
By Kumudini Hettiarachchi
The National Immunisation Programme makes further strides in the right direction
View(s):
It has been a long-felt need in the battle against cancer, which now becomes a reality to safeguard the girls of Sri Lanka who will take their place in society as wives and mothers.
The Epidemiology Unit of the Health Ministry is set to include the vaccine against the Human Papillomavirus (HPV) through the National Immunization Programme to prevent cervical cancer shortly, in a much-lauded effort, the Sunday Times learns.
Cervical cancer is not only a killer but is also the second commonest cancer among women in Sri Lanka, next to breast cancer.
"We are hoping to vaccinate 10 and 11-year-old girls who would be in Grade 6 with the HPV vaccine through the school-based immunization programme," said Consultant Epidemiologist Dr. Deepa Gamage of the Epidemiology Unit, pointing out that those who miss out getting vaccinated in school could get it from the Medical Officer of Health (MOH) office in the areas in which they live.
Before focusing on HPV, cervical cancer and the devastating effects they would have not only on women at the peak of their lives but also on their families, as the pivot around whom the family revolves is the mother, she explains that the HPV vaccine comes in injection form.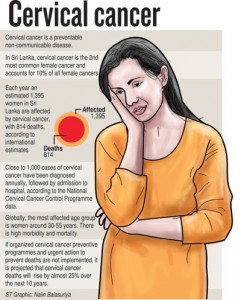 It has to be administered as two doses with a minimum period of six months apart, for full protection.
The Sunday Times understands that the HPV vaccine has been available in the private sector since 2010.
Measures by the Health Ministry to make the vaccine available to the larger mass of girls in the country at absolutely no cost to them through the National Immunization Programme are being hailed by many in health circles including oncologists (cancer doctors) who have seen the terrible consequences of cervical cancer.
"The HPV Quadrivalent vaccine is safe and there are no significant adverse events experienced," said Dr. Gamage, pointing out that numerous countries across the world are using this as a strong preventive measure against cervical cancer.
Focusing on general infectious agents, she says that they cause acute communicable diseases (CDs), which vaccination helps to prevent. However, a few infectious agents, through long-term persistent virus infections, could cause non-communicable diseases (NCDs) such as cancers.
Around 20% of viral diseases are estimated to lead to cancers. The role that the Hepatitis B virus plays in causing liver cancer, she cites as an example, pointing out that the Hep B Pentavalent vaccine was introduced to the National Immunization Programme in 2006 to be given to infants to prevent liver cancer in adulthood.
The latest measure to include the HPV vaccine is the second such opportunity in cancer prevention.
HPV is a group of more than 100 related viruses, with each being given a number called a genotype. It is a common virus which can be on surfaces such as the skin and mucous membranes (oral and genital tract surfaces) without showing signs and symptoms or causing acute illness, disappearing spontaneously on its own.
However, cautions Dr. Gamage, some genotypes on these skin surfaces can turn dangerous over time, causing cellular changes in specific areas in the body.
These cells ultimately transform into cancer cells or non-cancerous cell growths resulting in warts. The time period between an HPV infection and progression to an advanced stage of cervical cancer is usually about10 years or more.
Cervical HPV infection is diagnosed using tests based on HPV-DNA performed on cervical or vaginal swabs while HPV-induced changes in the cervical epithelium can be detected by cytology using a microscopic examination of exfoliated cells, known as the Papanicolaou (Pap) test.
Testing for HPV DNA, cytology and visual inspection with acetic acid are screening tools for the early identification of cervical cancer.
The pap-smear screening programme has been in place in Sri Lanka for the past two decades and all women 35 years old or above are offered a one-time screening at the well-woman clinics conducted by MOHs, says Dr. Gamage, lamenting, however, that a significant number of cervical cancer cases in the advanced stages are still occurring in the country.
Looking around the world, she says that by 2014, 58 countries (30%) had introduced the HPV vaccine to their National Immunization Programme for girls and most others, especially developing countries, in the last few years.
In the Southeast Asia Region to which Sri Lanka belongs, Bhutan, Bangladesh, Nepal and some states in India are administering the HPV vaccination for the prevention of cervical cancer. Thailand and Myanmar, meanwhile, are planning to follow suit.
Prevention thro' vaccination is essential

Shocking are the facts with regard to cervical cancer:

Cervical cancer is the second commonest cancer among women in Sri Lanka. 

More than 1,000 advanced stage cervical cancer patients are reported every year in the country – a majority of the women thus affected have severe complications or die even after treatment. 

Some Human Papillomaviruses (HPVs) cause 99% of cervical cancers. 

A majority of cervical cancers – 70%, are caused by high-risk HPV genotypes 16 and 18. 

Therefore, the effective answer is the HPV vaccine which prevents cervical cancers caused by these high-risk genotypes, with the added advantage of preventing non-cancerous HPV genotypes 6 and 11 for the prevention of genital warts.