Public anger grows as Colombo continues to stink
View(s):

The visits by someone from the Colombo Municipal Council or its private contractors, Abans and Carekleen, to collect the garbage from households, flat-dwellers, schools, wet markets, bakeries, restaurants, retailers, groceries, clinics, and industries are becoming more and more rare. As a result, the garbage gets dumped on the streets.

Main roads, street corners, byways, and pavements in city centres have for months become dumping grounds for little mountains of waste that have become breeding grounds for flies, vermin, and diseases. The capital stinks everywhere. It creates a public nuisance, obstructions, and health risks.
But the Colombo Municipal Council commissioner is hard-nosed. V K A Anura says there are no issues with garbage collection. He threatens punishments. Despite the threats, creating a public nuisance is an offence under the criminal law of the country. The offence requires "a common injury, danger or annoyance either to the public or to people who dwell or occupy property in the vicinity''; "an injury, obstruction, danger or annoyance to persons who may have occasion to use a public right''.
The people can take comfort in the fact that Magistrates are also empowered under the Criminal Procedure Code to rule on any environmental issue that is an obstruction or nuisance. Of course, the Constitution, under the 'Directive Principles of State Policy' in Chapter VI, says the State is required to 'protect, preserve and improve the environment for the benefit of the community'.

People have obligations, too. On 'fundamental duties' the Constitution says it is the duty of Sri Lankans 'to protect nature and conserve its riches'.
Sadly, though, the Constitution has not implicitly recognised the right to a healthy environment as a fundamental right.
The Sunday Times asked the people of Kotte, Dehiwala and Mt Lavinia, and Kolonnawa, who are burning with anger, for their thoughts:
Here are excerpts: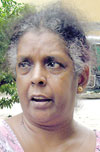 S L Ariyawathi, fruit vendor, Kolonnawa:
"We sell food items and it is highly unhygienic. We have to keep all the fruit covered and there are swarms of flies. It is a real menace and an unpleasant site".
M Rishaf, hardware store, Dematagoda:
"People come and throw garbage in the night. They throw garbage on our doorstep. We have to clean up garbage every morning".
M.I.B. Bisthami, pharmacy, Dematagoda:

"We pay a tax to the council, but we have to employ people to clean the garbage thrown on our doorstep. It is very unpleasant and it blocks the pathway to the pharmacy.''
Janaka Perera, resident, Kolonnawa:
"Garbage collectors have not visited our area for the past two weeks and people have been keeping garbage in their houses. But it becomes unbearable. People then throw the garbage on the streets.''
For those living in flats, the garbage disposal is even more challenging.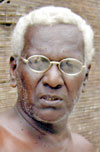 T D Ranjith, a senior resident, Chithra Lane, Narahenpita:
"We have been living here our whole life and such issues have never surfaced before. We have complained to the National Housing Development Authority to arrange proper disposal of garbage.''
He says garbage collectors refuse to collect unseparated garbage. They come once a week and demand separated garbage.
D M Shirani, grocery shop, Narahenpita:
"Since the garbage collectors come only once a week residents living in the top floors come and dump their garbage on the road. And that it is causing much inconvenience to the ground floor residents.''
Municipal Commissioner V K A Anura told the Sunday Times that there was no issue in garbage collection.
He insisted that the council would collect garbage that had not been separated.
The response so far have been positive, he claimed.
Asked about measures against people throwing garbage on the streets, he said a solution would be introduced, but he will not reveal it.
Megapolis and Western Development Ministry Secretary Nihal Rupasinghe, said the main focus is on long-term projects on waste management.