The value of keeping it simple
View(s):

An article posted in LinkedIn by Asela de Silva, former rugby player and referee, was brought to my attention. Proceeding from what I wrote in this column last week on funding I thought the thinking was relevant.

More so it was relevant as I was told there were instances in the recent past when at the end of the season the school never got the total promised. This is where the corporate become unethical after branding their names on the attire worn by schoolboys when on the field.

I picked up some useful thoughts from the unknown author. The story goes: One of my friends asked "Why do you pay so much money for your kids to do all their sports"? Well I have a confession to make; I don't pay for my kids to do sports. Personally, I couldn't care less about what sport they do. So, if I am not paying for sports what am I paying for are:

- I pay for those moments when my kids become so tired they want to quit but don't.

- I pay for those days when my kids come home from school and are "too tired" to go to their training but they go anyway.

- I pay for my kids to learn to be disciplined, focused and dedicated.

- I pay for my kids to learn to take care of their body and equipment.

- I pay for my kids to learn to work with others and to be good team mates, gracious in defeat and humble in success.

- I pay for my kids to learn to deal with disappointment, when they don't get that placing or title they'd hoped for, but still they go back week after week giving it their best shot.

- I pay for my kids to learn to make and accomplish goals.

- I pay for my kids to respect, not only themselves, but other athletes, officials and coaches.

- I pay for my kids to learn that it takes hours and hours, years and years of hard work and practice to create a champion and that success does not happen overnight.

- I pay for my kids to be proud of small achievements, and to work towards long term goals.

- I pay for the opportunity my kids have and will have to make life-long friendships, create lifelong memories, to be as proud of their achievements as I am.

- I pay so that my kids can be out on the field or in the gym instead of in front of a screen. I could go on but, to be short, I don't pay for sports; I pay for the opportunities that sports provides my kids with to develop attributes that will serve them well throughout their lives and give them the opportunity to bless the lives of others. From what I have seen so far I think it is a great investment!

It is all about the opportunities sports provide to develop attributes that will serve them in their lives. Rugby is a game that values building teamwork, understanding, co-operation, and respect for fellow athletes. The cornerstones have always been and continue to be. The question I have is whether all is well in servicing the cornerstones of the game.

Is the message clear or is it more lip service while the game is played. Are the players overworked to satisfy the demands of alumni who measure performance by winning something or another? Injuries are a common cause at the end of the season and the question is whether the advice on player welfare by World Rugby is at least read.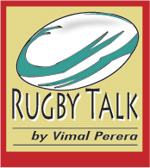 I do laud and appreciate the lead of Trinity where the juniors are not put on show before the big games. When exposed to matches at this minion age boys will want to win just as much as parents and alumni will. The coaches too will want a win as they will be measured by the wins. The skills techniques and the cornerstones of rugby will be forgotten. In this sense the lead by Trinity to let the smaller age groups to learn skills and enjoy the game is indeed a good lesson. In this world of being wanted to be seen and measured in terms of wins like the madness for Grade 5 scholarships: the decision of allowing to understanding a sport would not have been easy. Once done what follows will be easier and beneficial. The system of wins in focus is that boys are used and wasted before time. To not let that happen to juniors is the right approach.
The league is over and won the knockout is on. The question is whether we need all these complicated events or just a simple system. Kumar Sangakkara giving expert comments during the India Sri Lanka match explained why Coach Graham Ford was the best to build Sri Lanka Cricket. He said during his time Coach Ford once asked the players to draw a picture that represents them and show the paper and explain why?
The images were drawn after much effort: complex, abstract, colourful and explained with much care. The coach had a paper which had a simple stickman. It was a simple example of how to be simple and keep things simple. Keep it simple and we beat India with assurance.
Keep the game simple for the schoolboys to learn the attributes that help life and alumni can help a lot when the sport and sportsman they promote will have a bigger role in developing life skills and be responsible example to develop others who may not have a river to fund.
 Vimal Perera is a former Rugby Referee, coach and Accredited Referees Evaluator IRB