Navy rule the waves off Trinco
8th Trinco Blu Sailing Regatta
View(s):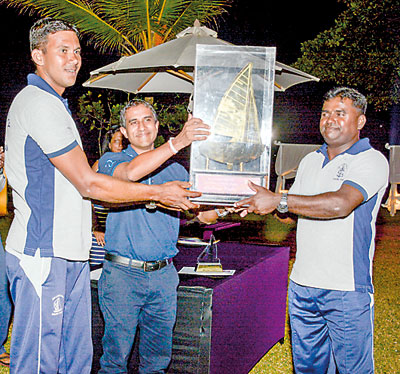 The Sri Lanka Navy yachtsmen took major honours at the 8th Trinco Blu Sailing Regatta held in Trincomalee. This year's event featured the largest recorded fleet of 43 sail boats, and over 60 sailors competing to win the Royal Colombo Yacht Club (RCYC) Trinco Blu Challenge Trophy.
Zai Pestonjee won the Optimist Class, with Jehan de Silva and Sahanya Wevita came second and third respectively. In the Laser Class, Navy's P.D.D.S. Rajapaksha came first, while teammate P.N.P.K. Dissanayake came second and Devin Goonewardena third.
In the Enterprise Class, Navy's W.A.R. Nishantha and N.G.M.U. Gunawardhana came first while teammates W.M.C. Marambe and K.C. de Soyza came second. W.A.R Nishantha and N.G.M.U Gunawardhana were named overall first-place winners of the Regatta, with J.M.P.L. Jayasuriya and A.S.K. de Soyza, along with W.M.C. Marambe and K.C. de Soyza declared overall second and third place winners. All the overall winners were from the Sri Lanka Navy.
The awards were presented by Sri Lanka Navy Sailing Club Secretary- Commander C.T. Gunaratne, Head of Sales and Marketing- Leisure Resorts at Cinnamon Hotels and Resorts, Romesh Walpola and General Manager- Trinco Blu by Cinnamon, Conrad De La Motte.
This was the eighth consecutive year that Trinco Blu by Cinnamon partnered the RCYC to hold a successful Sailing Regatta. This year's fleet comprised 16 Optimists, a class of boat sailed by children 15 years and under, along with 20 Laser class boats, which are sailed single handed, as well as six Enterprise class boats and one GP14 class boat, both of which are sailed by two persons as helm and crew respectively.