Hambantota school vandalised; students want security guard
View(s):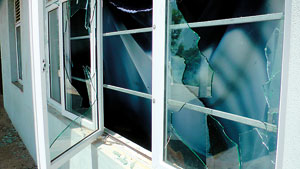 In the wake of vandalism at a Hambantota tsunami-hit school rebuilt with funds from a Taiwan-based Buddhist charity, parents and students have called on education authorities to provide a security guard to prevent a recurrence.
According to police, Vandals broke into the school last Sunday night and smashed 22 windows of the main hall of the Tzu Chi National School, named after the Buddhist charity which provided the funds to rebuild it after it was destroyed in the 2004 tsunami.
Spread over 22 acres, the fully equipped national school currently has about 1,000 students. Principal P.M. Atapattu said the main reason for such acts of vandalism was that the school did not have any security guards. This enabled all types of undesirable individuals to roam freely about the school premises during the night and cause damage to its property.