One-track minded railway not exploring toilet alternatives
View(s):

By Kasun Warakapitiya

Rail passengers and the general public are not convinced that the Sri Lanka Railways cannot provide and maintain hygienic toilets for their use considering the availability of such public facilities in the city of Colombo managed by private companies, which also use them to advertise their public service.

The bulk of Sri Lankan Railways revenue — billions of rupees — is spent on salaries, not for improving services, while managers say they do not have funds for facilities such as public toilets at rail stations.
Municipal authorities, on the other hand, have adopted a model of using the private sector to manage toilets in the city of Colombo, although the number available for public use is wholly inadequate.

The Colombo Municipal Council, which introduced public toilets in 1923 said its plan for running 14 public toilets, was working well. The Director Engineering (Works) of CMC M A C Fazal, is aware of the damage done by public toilets users. The council builds the sanitary facilities and tenders them to private companies willing to maintain them as a part of their corporate social responsibly projects.

Initially, public toilets in the city had been built with foreign funding. Later the municipality called for tenders to hand them over to private companies.

"The company is allowed to charge Rs 10 from an individual who uses the toilets and in turn they are told to use that money for renovations,'' he said. The council bears the utility bills. But if the companies generate enough revenue they are given the full responsibility for paying the bills, he said.

"The companies spend on disinfectants, liquid soaps, are responsible for replacing taps and sinks, and maintain security and labour. Our expenses are reduced, toilets are well kept,'' he said.

These facilities are meant for locals and foreigners. He said they were designed to be used with water for washing up and flushing. The toilets are maintained by a female and male worker with a security guard deployed outside.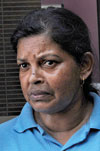 A supervisor for one company, Wasantha Kumara, said the toilets are relatively clean and not vandalised or damaged.
But he admits there are people with uncivil habits — they do not flush after using the facilities.
"Toilets are open from 7 in the morning to 8 p.m. The one in Bambalapitiya is open 24 hours. They are cleaned three times a day,'' he said. Kumara also said a woman and a man are assigned to every toilet, along with a security officer. Cleaners are told to maintain a presence inside when a user enters. This deters any potential vandals.
He said private employees work hard because they know they will be held responsible.
In stark contrast, toilets maintained by the Sri Lanka Railways at stations are unattended.
A security guard at the public toilet at Wellawatte, Samarai Muttu, 71, said he keeps a close eye on drunk people who come in.
He said he has noticed there are those who try to remove taps and even the soap. Muttu explains that when he sees such activity, the three of them including the two cleaners ask the suspects to leave.
"Sometimes late at night people come carrying bottles of alcohol and ask if they can to have a drink in the washroom. I have to yell that they have come to a toilet, not a bar or a hotel,'' he said.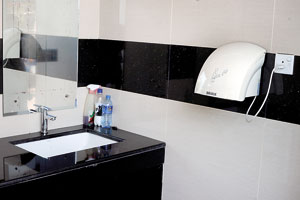 "Sometimes those who deface the walls and throw rubbish are asked to leave. They will argue, but this is my job, I am here to keep the place secure.
A cleaner at the Thibirigasyaya public toilets, K G Sriyani, said many people do not know how to use toilets properly.
In the toilet for females, she says, she often asks users to not make a mess. Some women dump sanitary napkins into the toilets causing blockages. And there are those who don't flush.
"Cleaning is a tough job. Even the man cleaning the men's toilets have to mop the betel spit and urine that men spray outside the urinals,'' she said. She also said any fixtures and fittings that are damaged are fixed within a day.
The workers believe that the main reason the toilets are well maintained is the presence of janitors.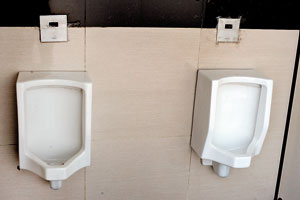 The Chief Medical Officer of the CMC, Dr Ruwan Wijeyamuni, said that Sri Lanka had a long history on development of sanitation and yet people are behaving as if they have not learned any manners.
Dr Wijeyamuni said sanitary facilities are essential from a health standpoint. He explained that smelly toilets are the ones that are unclean. They could spread disease.
"If people flush, use the taps properly and keep toilets dry, they won't stink and if a place is regularly cleaned and maintained the hygiene is mantained,'' he said. The Sunday Times last week exposed how Sri Lanka Railway was maintaining separate toilets for foreign visitors.
The Transport Ministry and railway officials claimed they were helpless and that more station masters have requested separate toilets for foreign visitors.
An official at the Bandarawela railway station said they are requesting a separate toilets for foreigners, because the public toilets have been ruined. Water is stored in a barrel because the taps are often stolen. He explained that even the fittings have been damaged and interior walls are covered in graffiti.
He said also that the 50-foot subway between the Bandarawela bus stand and the station stinks of urine.
"If we see people urinating we give them the mop to clean up or produce them in court and make them pay," he said.
There was no security guard to look after the toilets, he said.
An official at the Badulla railway station said there are separate toilets for foreigners but that facilities for toilets are muddy and unhygienic. He also said the toilets are often damaged by users. People steal new taps and trash the facilities.
Meanwhile, the head of the Department of Architecture at Motatuwa University, Dr Gamaini Weerasinghe, said that to resolve the problem of theft of fittings such a taps, they need to be designed so that they can only be removed by maintenance crews. He said fixtures such as lighting should be fitted with protective covers and CCTV cameras should be fitted at the entrance.
He added users too have a responsibility too keep toilets clean.
The Transport Ministry Secretary, Nihal Somaweera, told the Sunday Times last week that since gaining independence, developing the railway had not been a priority.
But he added development of the railways is ongoing but that first toilets for foreign visitors need to be built due to demand from station masters as well as the Tourism Ministry.
The Deputy Minister of Transport, Ashok Abeysinghe, said that there were plans to provide common toilets for foreigners and locals, but bad habits of the public, made officials wary of the idea.
He believes bad behaviour cannot be changed even with rules. "Only the people can correct themselves. Only then can a country move forward,'' he said.
However, railway commuters say the railway should look to alternative ways including making better use of lands available to them. The railway could offer a part of the land to commercial ventures and contract companies to run proper toilets for commuters.