Honey bees are not aggressive, says expert
View(s):

By Malaka Rodrigo
South Africa contested against Sri Lanka in the third one-day international on February 4 dressed in pink to raise awareness of breast cancer, but it was bees that grabbed the attention.

Bees invaded the ground forcing players and umpires to lie on the ground before they took cover in the dressing rooms.

A local bee keeper, Pierre Hefer, came to the ground armed with a tub of homemade honey comb to attract the bees. Hefer later told the international media that he initially thought there could be as much as 5,000 bees at the ground, but the actual number was less 'ÄĒ 1,000 to 2,000. He drew many of them away.

However, this is not the first time the Sri Lankans had been interrupted by bees. In 2007, during a cricket match between England while Sri Lanka was batting, bees invaded the Asgiriya Cricket ground in Kandy forcing players to lie down. Kumar Sangakkara who was batting at the time later told the media that he had experienced it twice at the ground. In 2008, a match in India was halted by bees.

'ÄúThere is nothing to worry about bees in our part of the world. In Sri Lanka it is mainly the giant honey bee (apis dorsata) called 'Äėbambara'Äô in Sinhala that forms large swarms that move periodically. But if they do not have a hive to protect, these bees are usually not aggressive,'ÄĚ assures bee expert Dr Wasantha Punchihewa. He also warns that African bees could be more aggressive, so precautions should be taken.

Dr Punchihewa revealed about localised migrations of 'Äėbambara'Äô where they move from coastal areas toward the hill country that could cause this kind of encounters. This migration is timed with the flowering of different plants in different areas. 'ÄúBambara start to migrate into the dry zone at the start of January when palu and weera common trees in dry zone such as Anuradhapura, Polonnaruwa, Sigiriya begin to flower. They leave these areas in July. The giant honey bee starts moving further south from July and reaches the hill country for the time when the nelu flower blooms.'Äô'Äô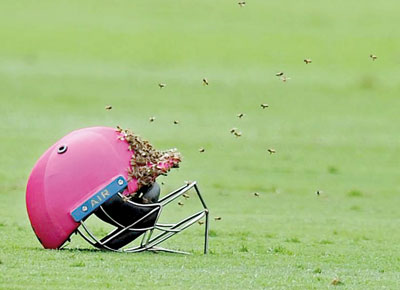 However, we do not have proper data on this migration, so Dr Punchihewa points out the importance of doing research to study this phenomena. The giant honey bee is the species seen at Sigiriya. Dr Punchihewa says this species has social structures where 'Äėsoldier'Äô bees take care of 'Äėcolony defence'Äô. About three-quarters of the worker population of a colony is engaged in colony defence covering the hive forming a protective curtain. If a threat is sensed, the guard bees exhibit a warning posture, and this signal is transmitted to nearby workers who also adopt the same posture. This creates a wave that travels across the hive with an audible threatening sound. It is a warning that has been issued to the unsuspecting person or animal that you are too close to the comb.
It is also important not to squash any bee as chemical signals emitted could trigger an attack.
Attacks by bees are reported every year from different parts of Sri Lanka. These bees have a venom gland that gets detached from the body. If stung, it is important to remove the sting without squeezing the venom gland as it will inject more venom advises Dr Punchihewa. If stung by a large number of bees, he suggests seeking medical attention.
Honey bees are nature'Äôs prime pollinators and without them the ecological balance will be lost and many of the forest plants will not survive according to Dr Punchihewa. The 'Äėbambara'Äô is misunderstood and you can co-exist with them. There is no real need to destroy hives, says Dr Punchihewa.
Often the 'Äėbambara'Äô is referred to as a 'Äėwasp'Äô. But the 'Äėwasp'Äô is called 'Äėdebara'Äô in Sinhala. It is a different species, the bee expert points out.