The onus to deliver is on the player as well as on the club
View(s):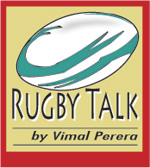 The Rugby league 2017 commenced last week and a near century was scored by Kandy against CH and FC. Does this say that Kandy are a superior team and CH as has happened during the last few years destined to be volleyed and hammered . What does this hold for rugby and to a club that has a history of over 100 years. We may brag all the way from Kandy that the score was a near 100 and how good Kandy is. If CH gives up the game and with almost no other team in sight to take its place in the A division the impact will be fewer games and less players having an opportunity to play. I watched CH practise and saw a turnout of over 40 players at practice. I was told they have no sponsor and depend on a small grant from the club and has to depend on Race Course for practice. The cost they say is going over their heads and is a strain.
A question to ask is whether the tournament should continue to be played on the basis of 1 versus 8 and 2 versus 10 and so forth in the first week and with a similar rotation in the first few weeks. In the interest of the game and making the games in the first few week more competitive is there a need to change the format where 8 will not play 1 in the first week but may be play 5. This will give them a chance to pitch themselves against likes and possibly who knows they will do better as the tournament progresses. This will also see that the tournament itself is more competitive and good for national rugby fans as well as sponsors. With an Asian 15 a side tournament in the first quarter of 2017 there will not be much competition to talk of. Maybe the format should be like what ARFU has done to keep competition alive.
Club Rugby did not reach the height of great rugby as some like to call a close match on points as a good game of rugby. CR was lucky to beat Army by 25 points to 24 in a scrappy game. Army on the other hand has themselves to blame as they played well but had nothing in them to finish the moves and convert to points. With Fijian coaches I would have expected the team to work on a run and pass game than go into contact. That however will not come easy as we will play the way we are used to. That is to hit, hit and hit. The team should talk to the Fijian coaching the team to ask about how much a Fijian referee will let go and not let the game slow down with penalties when it is not material. If that thinking will be forthcoming with the Fijian influence Sri Lanka Rugby will improve. We got to stop crying. As the season progresses I would think they will be better but I may not say they will play good rugby. CR with big names was a disappointment like their traditional rivals Havelock's who beat Air Force in a lack luster game at Ratmalana. A number of big names are in the Havelock's side but it does not appear that they are clicking and will find it hard to retain the second position if they play the way they did.
The Navy has themselves to blame for not piling on more points in the first week when they played Police. Despite a lot of possession Navy made mistakes while rain spoiled the open type of play they seem to prefer. Navy if they keep concentrating on the run and pass game and with a number of known faces will be a threat in the second week's game. The draw being such I may not see much competition in the next two weeks of rugby.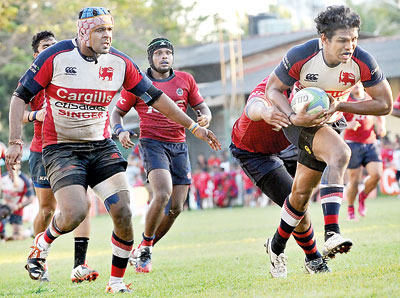 What I don't understand is why skills look average when there is so much of schools rugby. If you see the amount of time and days that are spent morning and evening in the gym and the field can we say that the boys are not committed. The question then is about what we coach. Probably we should look that way for a short time.
Last week also saw a fiasco of clubs not measuring to knowing what they should know when they manage the game. In the Asian sevens series a player is subject to a disciplinary hearing and subject to a ban of two matches. In the Asian Sevens Series there was only one match left so he served a one match ban. What happens next is that he should serve his punishment in the next tournament he plays. The players however played in the first week and now face further disciplinary action.  The onus to deliver is on the player as well as on the club. That is as far as knowledge and action is concerned in Sri Lanka where a player suspended say in a schools tournament will play a club match. But world rugby considers that punishments are universal.
Vimal Perera is a former Rugby Referee, coach and Accredited Referees Evaluator IRB