Suriyage among the top five
View(s):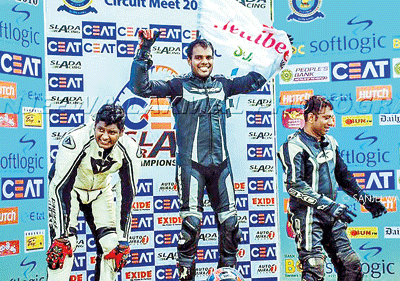 Sangeeth Suriyage, who was a regular feature in the sports pages of local newspapers in the recent months, ended up among the top five in the British Supermoto Championship. Suriyage is on the road to become the undisputed champion in SuperMotorad racing in Sri Lanka in both the 250cc and Open Class modified bikes categories.
A win at the Rotherham Circuit Meet is the dream of any rider, but Suriyage stamped his class with two wins at the recently concluded races. He proved that he is in fine fettle, propelling his 2006 Honda 250cc keeping the lead in all eight laps with a record timing of 1.5 minutes a lap.
The second event, the Open Class, Suriyage started off from Pole and clocked the fastest by hitting 1.3 minutes while battling off against 12 top riders in Sri Lanka. Eventually Suriyage took the honours off from the bunch to finish off with his second podium win.
"I am fully committed physically and mentally, regardless of the fact that my bikes are old. I keep them in top condition of course with my own settings to suit the tracks and moreover when I get started I have only one ambition, that is to do what I have trained to do without losing the focus of my main goal. When I am in the mood, I and my bikes are inseparable and we work as one unit," Suriyage stated on his constant success and the long ride to earn a reputation as a top Supermoto rider.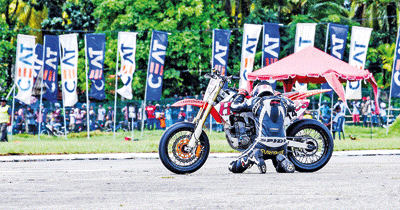 At 23, Suriyage is gradually becoming the Supermoto Racing man in Sri Lanka and is eyeing that same reputation in the United Kingdom as well. He wishes to see more new riders joining the fray as Suriyage feels that there is enough talent in Sri Lanka.
"But who dares to go into a dangerous sport without safety gear which is too expensive for newcomers. It's a fact that this sport has been limited to a few, but there are good riders here, if there are clubs to support them. However, the Associations and Federations of Motorsports in Sri Lanka are doing a great job to encourage young riders to test their skills in the international arena. We are seeing a new trend in this sport," Suriyage added.