SL men win the world carrom championship
By Lakshman Ranasinghe
View(s):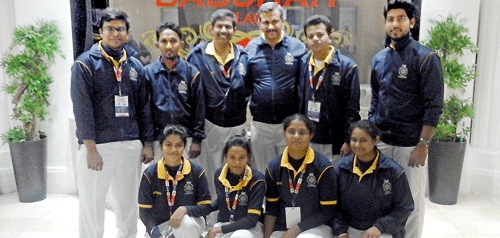 Sri Lanka's national flag flew high at the 7th Carrom World Championship 2016 in Birmingham, England when Sri Lanka's Men's team won the world championship defeating the reigning champions India by 2-1.
Chamil Cooray the Sri Lankan captain led from the front defeating India's R.M. Shankara 25-8 and 25/12 in straight sets. The Indian though expected to give the Lankans a tough fight was never a threat to Cooray. Cooray in top form played four centuries and exhibited high standard slice work which shattered the hopes of the high riding Indian to finish all his frames in the game while World Champion Nishantha lived up to his reputation to trounce D. Sandeep 2-1.
Sandeep started off with a bang to win the first set 21-16 in a close battle but the world champion came back strongly to the astonishment of the Indian to score a resounding victory in the second set 25-1 to level the scores. In the deciding third set Sandeep adopting a new game plan scored 15 points but Fernando making use of all his experience overcame the Indian 25-15 to make Sri Lanka to be crowned as World Men's Carrom Champions 2016.
Indian A. Riyaz was too strong for Lanka's M. Sherriffdeen winning the last match 2-0 (25/7, 25/4).
On their way to the helm Sri Lanka beat Italy 3-0, Germany 3-0 and the hosts United Kingdom 3-0 in the quarters and trounced Maldives 2-1. Both Chamil Cooray and Nishantha Fernando won their matches straight while M. Shaheed conceeded a walk-over and withdrew in the third set due to ill health.
Sri Lanka women slicers ended their quest to win the women's crown but foiled by Indian women and had to be content as 1st runner-up. Only Yasika Rahubadda won two out her three matches.