Sevexth rocks with Butterfly Effect
By Joshua Surendraraj
View(s):
The guitar riffs were heavy and constant; the drums lead them on to explore the deep lyrics, whilst the bass held them all together. At times the keyboard stepped in to set a warmer tone, thus balancing this intricate work of art.
Almost a year and a half since their reappearance in the music scene, the Sri Lankan avant garde heavy metal band, Sevexth has already released their debut album "Butterfly Effect". Music is about expression and the lyrics in the record talk about making a change in the world.
Sevexth strongly believes that their songs could have that ripple effect, just as a pebble when it's thrown into water, thus the album is aptly titled, 'Butterfly Effect'.
Recently amidst an excited crowd of Sri Lanka's growing heavy metal community, Butterfly effect was played in its entirety. Apart from the songs 'Eli', 'Vendetta', 'Cannibal' and 'Rose' it was the first time that the audience was exposed to some of the newer tunes by Sevexth.
The combination of the rhythm guitarist and keyboardist Senuri Pannipitya, Arun Jilukshanon lead guitar, Oshi Hewadewa on bass guitar, drummer Avishka Senaratne and Pranil Abeysinghe on vocals showcased some of the best talent that Sri Lanka has to offer.
Previously the Mirror Magazine caught up with Sevexth frontman, Pranil, who tells us that the band very nearly gave up on their career due to several line-up problems. If it had not been for those who believed in their music, 'Butterfly Effect' would not have been a reality.
"We completed the line-up with our drummer, Avishka. Before that, I had decided to give up on the scene and avoided all forms of contact with everyone regarding the band. Because we had so many line-up changes since 2011," he tells us.
"My spirits were regained after three people actually called me up and told me that there was something here and why don't you pursue it?  Soon after that I found our drummer and it was not long after that we recorded 'Eli'.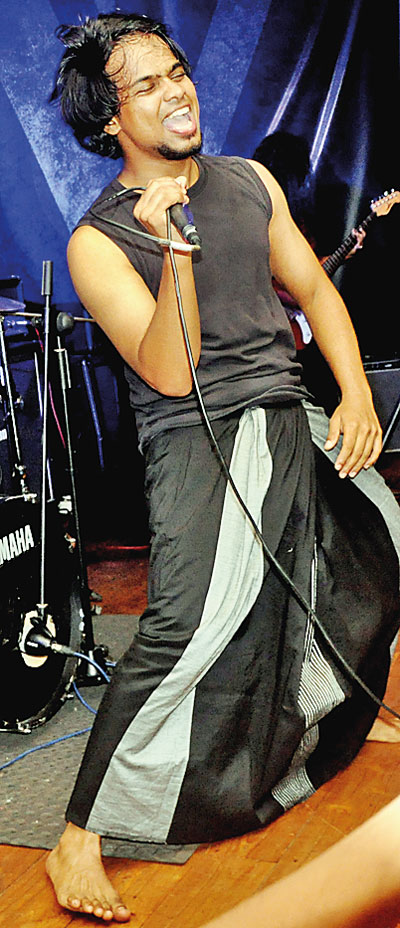 After that release, they were invited to co-headline with one of the biggest heavy metal bands in India, 'Zygnema'.
"We performed at one of their album tour concerts in Mumbai and it was definitely an eye opener for us. The crowd in India is very different than it is back here. India has a crazy music scene/ heavy metal scene back there," Pranil says.
"To them an international act is secondary to a local act and the audience care a lot about the local music scene. We should apply the same in Lanka, we have so much local talent in this country and we should promote that," he adds.  "India was a lesson that we carry with us. Putting an album out is just a stepping stone, there's a lot of work that comes after that in terms of promoting it."
Pranil  explains that following the release of their three singles, 'Eli', 'Cannibal' and 'Vendetta' in 2015, they had hoped to release the album by February, this year. However, things were quiet for a while because they couldn't find a suitable recording producer.
In terms of the album, lyrically a lot of things that are spoken about are what Pranil personally believes in.
"Music has a huge impact on people's lives and this is why we went with the lyrical concept.  All the songs follow this concept, if at all the only song that doesn't is 'Eternal', he says. Explaining further he adds that 'Eternal' broke away from the concept, because it was very personal to him. "I wrote it in remembrance of a dear friend, who died of cancer. I felt that he will live on through the music."Commenting on the thought process that goes into the lyrics, he adds that it's a combined effort. "The entire band contributes to a song with the melodies. When it comes to the lyrics, I always think about what the song speaks to me. If it sounds more aggressive then I would take that use that feeling and combine it with what I believe in."
Pranil concludes by telling us that the response from the audience has been amazing. "People were engaging with the music and they understood it.
"This was what we wanted and it was nice."