Motor Bicycle; A ride on social realities
View(s):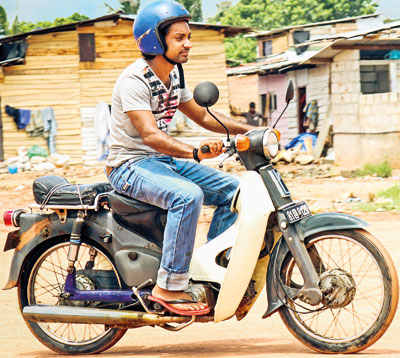 Award winning Sameera Rangana Naotunna's debut film 'Motor Bicycle' is now being screened at Regal and Lido cinemas in Colombo and other CEL and Ridma circuit theatres around the country.
The film won the Best Film and the Best Direction awards at 2015 SAARC Film Festival held in Colombo. Produced by Suranga Jayasuriya, the film stars Dasun Pathirana, Samanalee Fonseka, Veena Jayakody, Mahendra Perera, Kumara Thirimadura Kalana Gunasekara, Netale Nanayakara, Dayadeva Edirisinghe and Dimuthu Chinthaka.
Rangana is 26 years old. His ambition is to become a popular singer. But first, he wants a motor bicycle so he could take his girlfriend around the city and make their meet ups easier. While living with his mother he plays music at pubs. Rangana pawns his mother's gold chain to buy a motor bicycle. But the money he receives is not sufficient to buy a good one. Eagerness to own a motor bicycle drives him to purchase one illegally without thinking about the consequences. His dream of taking his girlfriend in his motor bicycle is about to be fulfilled but..
Edited by Tissa Surendra, cinematographer is Wishvajith Karunarathne and make-up by Priyantha Wanninayake and musical score is done by Ajith Kumarasiri.