Head to Negombo beach to fly high
View(s):
It's back. This windy August the kite season is in full flight and the much- awaited National Kite Festival 2016 titled '
Nil Ahase Wasanthaya
  with X2" will return to its birthplace Negombo today, August 28.  So if you have a lazy Sunday ahead head down to the Negombo Beach Park – the festival is on the whole day from 8.30 a.m. – 7.30p.m.
Organised by Kite Sri Lanka, this year's competition ( the festival is incidentally in its ninth year) will feature a number of kite enthusiasts from around Sri Lanka. The event creates a platform for thousands of local and foreign kite lovers to enjoy kite flying by participating in a number of kite related events and competitions.
The kite competition will be open for both children and open groups. Children under 14 years can participate in two events namely "The Most Creative Kite" and "The Nature Kite" (kites made under the theme of nature) while the open category consists of three events including "TheMost Creative Kite", "TheNature Kite" (kites made under the theme nature) and "The Best Fighting Kite". Fighting kites should be made into 'Combuwa' or 'Waula' style and their size should not exceed 1 1/2 feet.
As this year's event is being held on the beach, the much-awaited sand castle competition will also return to the festival. The theme for this competition will be "World Peace".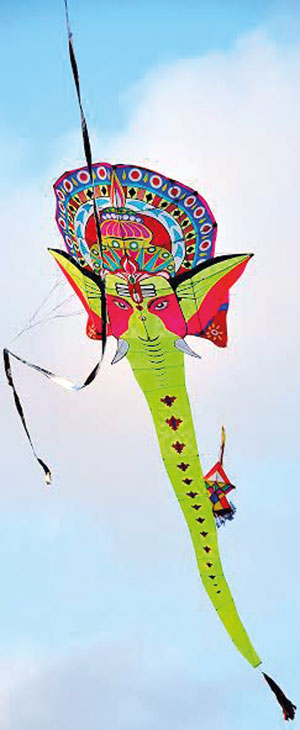 Kite flying apart, there are lots of fun events such as magic displays, face painting, fun games, DJ music and Papare bands and more. You may also have the chance to see your favourite celebrity from the world of sports, music and film down at the beach.
Registration for the competitions will take place from 8:30 – 11:30 a.m. at the venue  today. Certificates, trophies, gifts and gift vouchers are in store for the winners.
This year as well, the organisers have joined hands with the Presidential Task Force on Drug Prevention and a special one km walk will be held from the Negambo town to the Beach Park where the festival is being held. Co-hosted by Rotary International and Interact Clubs, the Kite Walk will focus on educating the general public specifically youth on the harm caused by drug use and spreading a positive message.
This year's event is sponsored by X2 Ginseng drink, Trisoy soya milk drink and Power of the Sea beverages. It is also co-sponsored by Lacto Sun Lotion, Health Tips, Kalabara News, JobSpot.lk, Music TV, Music.lk, Casterly Crown, ShoppingWasi.lk, Sakwa Creations, Neth Creations, Negombo News and Nehemiah Consultants.