Artistes should intervene for social change; Rajitha
View(s):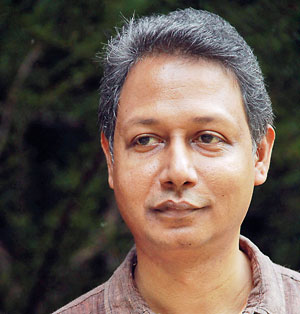 Known for his bold and honest theatrical attempts, Rajitha Dissanayake has always addressed burning issues of the contemporary Sri Lankan society. The playwright spoke to the TV Times on his latest attempt.
"In this play I tried to capture the present situation specially after the three decades of civil war. As a society we don't learn lessons. Even after a disastrous war and its destruction, we don't seem to work on preventing such a catastrophe again and don't try to find out as to why did it happen," says Rajitha unravelling the reason for making the play.
"As Tamil and Sinhalese we don't work to prevent repeating such a disaster. What the majority doing is celebrating the war victory and use it for their own survival and benefit while the minority protest demanding justice for the loss caused to them and their people," the playwright complains.
Rajitha says that addressing this urgent issue, is a need of the hour and it is  the duty of all the artistes.
"As artistes we have a duty to work for the peace and unity and make much needed attitudinal changes. We can make people think and bring in people for a better society and this should be done through an intellectually pleasing entertainment,".
"I think artistes should interven in addressing social issues but most importantly this should be done through art and art along. It should be an experience through entertainment,".
In his earlier plays Rajitha discussed issues like media, its behaviour and its effect on media and love and people's response to love. But this play is focused on a completely new story.