Shani Diluka to perform at Ravinia
By Seneka Abeyratne
View(s):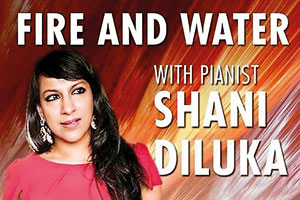 Shani Diluka, the well known Paris-based concert pianist of Sri Lankan origin, will be giving a recital at the prestigious Ravinia Music Festival in June this year. The festival, established in 1904, is held each year from June to September in Ravinia Park, Illinois. It is the oldest outdoor music festival in America as well as the summer home of the Chicago Symphony Orchestra. The park has three performance venues: The Pavilion (3,400 seats); the Martin Theater (850 seats); and the Bennett Gordon Hall (450 seats).
Diluka, who has performed in dozens of countries, is a classical pianist averaging over hundred concerts a year. Her schedule for this year includes: Nantes Folle Journée (February 2016); Salzburg Morzarteum (March 2016); Japan Folle Journée (May 2016); Ravinia Festival USA (June 2016); Russia Folle Journée (July 2016); Roque d'Anthéron Music Festival, France (August 2016); Schubertiade Music Festival, Hohenems, Austria (October 2016); Philharmonie de Paris (November 2016); and Paris Théatre des Champs Elysées (November/December 2016).
Diluka has made a number of albums consisting of works by Grieg, Mendelssohn, Beethoven, and Schubert. The Schubert album, released in 2015, includes his iconic Piano Sonata No. 21 (D960), which she has performed at various venues. Other albums by Diluka include Road 66, Monsieur Chopin (with Jacques Bonnaffé), Babar et le père noël, (with Natalie Dessay) and the Roque d'Anthéron series (with other artistes). All of the above have received critical acclaim and most of the above were launched by Mirare/Harmonia Mundi – two of France's top classical music record labels. In April this year, she finished recording the complete Beethoven works for cello and piano with Valentin Erben, the legendary cellist from the Alban Berg Quartet, in Vienna.
Diluka has given several recitals in Sri Lanka over the years. She is married to Gabriel Le Magadure – a virtuoso violinist and member of the celebrated Ébène Quartet. In January this year, the duo performed for an exclusive audience at "Bloomfield", Kohuwala. In 2014, Diluka, Le Magadure and Erben performed at the Cinnamon Grand. The concert comprised works by Beethoven, Schubert, Mozart, Debussy and Grieg. It is not often that local audiences get to see three world-class musicians performing together. This was one such occasion and it surpassed all expectations.