Drama and dance, Sunera performing arts workshops in the limelight
By Minushi Perera
View(s):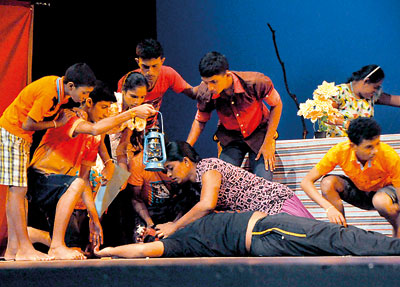 The annual drama festival presented by the Sunera Foundation showcased the talents of young participants attached to the Sunera Performing arts workshops successfully erasing from the viewers mind that the performers are disabled or in need of special care.
'Samanalayaya' which was staged at Lionel Wendt on May 18 was the final performance of the nine regional drama festivals held during February and March highlighting the talents of over 1000-disabled participants from the 29 Sunera Foundation Performing arts workshops across the country. A panel of judges selected the best three plays to be staged in Colombo. All the plays that are performed throughout the festival were created, scripted and directed by the trainers at the Sunera Foundation.
The first play for the evening was performed by the workshop in Dehiwala. "Akunuwadunu Hena" depicted the conflict between humans and elephants. The play is centered around a farmer and his family in a village that is subjected to elephant attacks. This play was created, scripted and directed by Sadun Bandara Dissanayake.
'Okkoma Minissu' the second play of the evening performed by the Imaduwa workshop focused on the conflicts among humans. The story also shows that despite all the differences,we all share a common humanity. The play was created, scripted and directed by Menaka Priyadarshan.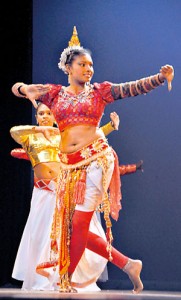 The third and final play of the festival finale was ' Kama Rahai' performed by the Kuliyapitiya workshop. Their play was set in a small town restaurant where the business is brisk, until customers begin to complain about the food and service. Created, scripted and directed by Lahiru Nilanka Pathiraja this play had its share of humour.
Aside from the three plays that depicted meaningful social messages, there were two dance items. The item by the Anuradhapura, Kakirawa, Padugaswewa and Thilakpitiya workshops was trained and choreographed by DananjaniMalkanthi  while the other was performed by the Dehiwala and Maharagama workshops. It was choreographed by Sadun Bandara Dissanayake.
The Sunera Foundation not only raises awareness about those who need special care but also puts in a lot of time and effort  to bring out and enhance the talents of the disabled.