Canvas of hope
Four young artists hold exhibition to help people affected by Leprosy
View(s):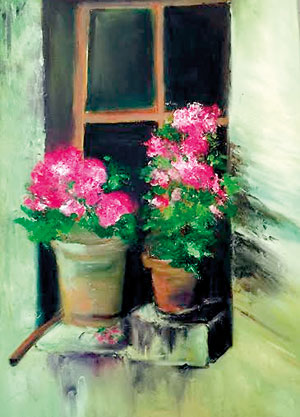 In a bid to help people living with leprosy, Hajara Asad Ali (former student of Colombo International School), Shari Jayawardhana (former student of Ladies' College), Sandali Pathirana (student of Visakha Vidyalaya) and Anoushka de Silva (student of Ladies' College), all students of Saumya Jayasekera will display over 80 paintings at, "Shades of Hope." The exhibition will be held on June 4 – 5 from 9 a.m. to 7 p.m. at the Lionel Wendt Art Gallery, Colombo 7.
Part of the sale proceeds from the exhibition will be in aid of the Society for the Upliftment and Rehabilitation of Leprosy Affected Persons (SUROL), the only functioning non-Governmental organisation in Sri Lanka committed to bringing hope and happiness to people affected by Leprosy.
Painting has always been a passion for Hajara Asad Ali who has many fond memories of enjoying it throughout her childhood. However it was only after completing her undergraduate studies in International Business that she decided to rediscover her love for painting.
"I found painting to be a beautiful distraction from the busy exam-led lifestyle I just graduated from," says Hajara.
Shari Jayawardhana has been interested in art since she was a child. She took up Art as one of her subjects while at Ladies' College, Colombo and after completing her higher studies in Communication and Public Health overseas, she became interested in painting as an activity of self-discovery and relaxation. Her paintings are inspired by the beauty of the natural world.
"I have been inspired by the masterpieces of world famous Impressionists such as Claude Monet and Vincent van Gogh. I want to thank my teacher Mrs.  Jayasekera for her guidance and encouragement, without it this exhibition would not have been possible" noted Shari.
A Grade 10 student of Visakha Vidyalaya, Sandali Pathirana first started painting when she was eight, displaying her talent at school art exhibitions. She was awarded the second place at the annual art exhibition of Visakha Vidyalaya, 'Sithu Murthi' held in 2008.
Anoushka de Silva, a Grade 10 student of Ladies' College, was the winner of the school Art Challenge Cup in 2013 and the middle school digital art competition in 2015. She is currently studying Art as a subject for her O' level examination.
"As I have a busy after-school schedule, painting provides me with much needed relaxation and quiet time which I cherish. The love for animals has provided the inspiration for my paintings," she says.