Flooded with kindness and filled with resolve…
View(s):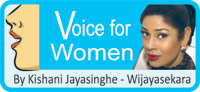 One woman's tragedy is sometimes another woman's opportunity – opportunity of the best sort. The sort that allows a woman to feel unbridled compassion, anguish and empathy for the loss that a fellow sister is feeling. Never has this sort of opportunity been more prevalent than during these past two weeks..two weeks during which our sunny, humid and hot island turned into a wet, roaring force of nature with the rivers and rains washing away too many loved ones, their precious homes and their very livelihoods.
In that flood of disaster however, what we have been witnessing is the true nature of our beloved people. The seemingly bottomless source of energy our young men have displayed during their heroic acts of saving a neighbour; the unbreakable spirit our young have shown in trying to create makeshift toys with the debris left behind and the grit and strength of the Sri Lankan women who have rallied together to bring about some semblance of normality to their families and loved ones, amongst chaos and disaster, when they have lost everything.
Time and again we have witness the extraordinary spirit that brings us together during times of tragedy. According to Maia Szalavitz reporting for Time Magazine, "Disasters bring out our kindness…in times of disaster it's human nature to band together and be kind to one another in order to survive". She goes on to observe that "there is a long history of such cooperation in the face of crisis. Older Londoners, for example, often fondly recall the years of the Blitz, when their city was relentlessly bombed by the Germans during WWII. New Yorkers, too, tend to think back on the immediate aftermath of 9/11 as a time of great solidarity." Similarly Sri Lankans too tend to be in complete accord, that the horrendous Tsunami of 2004 – which National Geographic refers to as "perhaps the most disastrous Tsunami in history" – was a time of unconditional support and unity in our country.
I distinctly remember feeling so moved by witnessing the kindness and actions of strangers en mass, during the rescue efforts of every able bodied person in that horrifying aftermath. That was the first time I witnessed the beauty of our Sri Lankan spirit firsthand, standing shoulder to shoulder with men and women of all races, religions, ages and political preferences, working tirelessly together to alleviate the suffering of our Sri Lankan brothers and sisters. Once again, the unshakeable resolve that lines the very underbelly of our people that 'everything will be alright' has come to the fore, unequivocally trumping the hint of selfishness and traces of 'me culture' that has been gradually but surely creeping into our every day lives at the workplace, amongst our social circles, and on our roads.
Author Rebecca Solnit, describes the surge in altruism during disasters in her book A Paradise Built in Hell, and during an interview with Maia Szalavitz said: "The great majority of people are calm, resourceful, altruistic or even beyond altruistic, as they risk themselves for others. We improvise the conditions of survival beautifully."
And beautiful it is to see the true nature of our people. Not too long ago, there was an undertone of a baser side…a glimpse of a people clinging to their insular views of what is culturally acceptable and what defines us as a nation. This terrible tragedy has once again opened the door to reveal what truly defines our Nation and Her people: That when all the stakes are down, and all the water has receded, we are capable of flooding the lives of the less fortunate with kindness and compassion; with food and clothing; with respite and shelter.
The medals for valour and bravery however, go, not to the people who are saving the day/the people/the animals/the homes or their precious possessions. The medals for valour and bravery go to the very people who have been hardest hit by these punishments meted out by Mother Nature, for crimes unknown to them. The people whose soundless cries have touched our hearts and imprinted themselves in our minds. In the midst of all this suffering and anguish, when they have lost all they have and in some cases, lost loved ones and the very roof over their heads, there is a resolve and a tenacity that is evident even in the eyes of the most fragile of the hardest hit. It is this grit and strength that has made us who we are and shaped a nation that has faced war, tragedy, floods, droughts and even political oppression, and still been able to come through the other side with a feeling of hope. We see it in our parents and we see it in our children and if we work hard enough and look long enough, we will see it in our own eyes and in the eyes of our contemporaries.
It is unfortunate that it seems to take misfortune to bring out the best in us. That we respond best and show our true colours when we are faced with the most desperate situations. Sri Lankans showed their true colours, once again, in the midst of this particular natural disaster, to be brighter than ever. Illuminating themselves as helpful, concerned and courageous people, blind to race and religion and ever aware of the need to lend a helping hand. Our people, armed with nothing but strength in their hearts, the kindness in their eyes and filled with a steely resolve, that this too shall pass.
All comments, suggestions and contributions are most welcome. Confidentiality guaranteed.
Please email: KJWVoiceforWomen@gmail.com