Hundred years on, vivid are the memories
View(s):

Dorothie Anne Ebell celebrated her 100th birthday on May 23 in the same manner in which she has lived her life – sustained by her family and her faith. Family, her sons and daughters-in-law,  her grandchildren, all her great grandchildren, Rishane, Rachel, Chaarya, Rakhil, Caleb, Zoe and Anaisha, relatives and friends had gathered in her cosy home in Nawala and she sat in her customary spot by the window joining in  a short prayer service and hymns.

The priest Rev. Niroshan de Mel, vicar at  St Luke's, Borella where Dorothie has been a parishioner for over 60 years invited  her loved ones to lay hands on her and bless her on this special occasion, reflecting perhaps that she should be blessing everyone. It was as a young wife and mother that Dorothie had begun worshipping at St. Luke's and where in later years, she was an enrolling member of the Mothers' Union. Until she became less steady on her feet she would regularly make the trip to church on Sundays.

She may have missed being able to go to church on her birthday but her hundred years on this earth seem to sit lightly on Dorothie Ebell, 'Dorrie' to friends and 'Grandma' to her fond grandchildren- Melanie, Adam, Judith, Ruwani and Andrew (her great grandchildren call her GG, short for Great Grandmother). She was born during the Great War but it was in Ceylon of an unhurried, more peaceful time. On Dangan Estate in Matale where her father Edward Elgin Kreltszheim was Assistant Superintendent, she remembers well how the children, or at least the elder ones would accompany their father to early morning muster in the rubber fields, returning home to a hearty breakfast. Her schooling began in Matale but her parents soon sent the children to stay with an aunt in Wellawatte and Dorothie attended Holy Family Convent, Bambalapitiya.  She was the eldest of four, with two brothers Tom and James (called Bunnie) and younger sister Barbara. Her mother Dorothie Winifred Vanden Driesen had married young and she was a premature baby, just three pounds in weight. She recalls being told that her grandmother Malvina cared for her, literally nursing her in cotton wool until she throve. Another memory is of Grandma's special 'kachang' soup with dumplings that her mother would urge them to eat as so much trouble had been taken in the making of it.

Her father had hoped she would become a teacher but an unfortunate accident on the field left him unable to continue as a planter and the family made a permanent move to Colombo when she was 16. Times were suddenly hard and her mother 'discovered' and used her gift for sewing, which she confesses she did not inherit, to take a few orders.   Dorrie completed her Junior Cambridge and the Senior exam in Domestic Science and then decided it was time she found a job. She applied for a telephone operator's post at the CTO (Central Telegraph Office): It was 1934, she was about 18. She was among ten transferred to the clerical section and remembers that a considerate boss, a Mr. Palihawardene would make sure that the young ladies were not subject to too much attention from the men. Her first salary was Rs 22.50 and this she gave to her mother. To earn promotion to the post of Supervisor, Dorrie transferred to Hatton where she worked for a year. A side benefit of this was that in her spare time she learned to knit and the family down to her grandchildren benefitted from expertly turned out knitted garments. Ten years later, she was earning round Rs. 130.  At that time fifty rupees was a lot, she remembers, eggs were three cents and a pound of beef 10 cents.

With World War 2 came new responsibilities. She joined the Auxiliary Territorial Service (ATS –the Women's branch of the British Army)   though initially it was very routine, mostly regular drills. Sitting on her bookshelf are pictures of Dorrie in her khaki ATS uniform with her sergeant's stripes. They supplied rather hard shoes, she remembers, recalling too the Japanese air raid on Easter Sunday, 1942, seeing the planes flying over and how they all hid under the big bed in their home down St. Mary's Road, Bambalapitiya, all except their father who was 'too big to get under the bed'. Before they realized it was an Air Raid, her mother, thinking it was the British forces returning to base exclaimed, "Here come our boys!"

Down St. Mary's Road also lived the Ebell family who were family friends and an understanding developed between their son Cheriton, who worked at the Government Press and Dorrie. A vivid memory is how Cheriton went to enlist and disappeared for days. He had been mobilized, sent to SEAC (Mountbatten's South East Asia Command) and she recalls how his anxious mother meeting her on the road had asked if she had seen him and her own blushes for at the time no one knew of their feelings for each other. After the war, Cheriton was sent for two years training to Manchester, UK and it was only on his return that they married on April 12, 1950 at St. Paul's Church, Milagiriya with Dorrie, a radiant bride, poised and elegant in her trailing lace gown, sewn of course, by her mother. They were well matched, Cheriton and she, if dissimilar in character. "My husband was very quiet," she says, "I was the talker more than he."

Their only home was in Borella so close to the Govt. Press office that Cheriton could come back  for lunch. She soon had her hands full with the birth of two sons, Peter and Richard. Peter never could abide an ayah, she recalls. He protested "I want my Mama" so Dorrie says she brought them up mostly by herself. It was a bit tough bringing up these two rascals, but it was worth it, she adds with motherly pride.

Down here from Australia with his wife Jill especially for Dorrie's birthday, Peter Ebell remembers that his mother was a firm disciplinarian when they were growing up. The boys went to Wesley College with Peter moving to Royal his father's old school after the Fourth Standard scholarship exam and Richard staying on at Wesley. Richard will never forget how she turned up at Wesley one day bearing one black shoe; only then did he realise that he had come to school wearing one black and one brown shoe.

Peter leaving for the UK as a young man was a big blow, his mother says. Peter describes it as 'wrench for them all' but the blue aerogrammes from home written by his mother would unfailingly arrive twice a week. Despite Peter and Jill being resident outside Sri Lanka since, the close bond between the members of the family never diminished wherever they lived. Years later he gave her her first computer and says how from initially using the Internet she soon picked up on email, enjoying keeping in close touch with relatives scattered around the world, a pastime she now misses, one of the drawbacks of being less mobile. She gave up using the computer only last year.

From the Government Press where he retired as Works Manager, Cheriton moved to Hayleys where, Dorrie was pleased to see their younger son Richard follow him. Cheriton's sudden death at the age of 64 in 1979 was a shock and Dorrie's great sorrow but Richard and his bride Lilamani came to live at the house in Borella so she would not be alone. When they built their own home in Nawala Dorrie lived alone, managing for a few years. Later, an annexe was added on to their house at Nawala giving her the space to live independently but with the houses connected and everyone within calling distance.

Leaving Borella was another wrench, but Dorrie adapted to Nawala, finding kindred spirit Scrabble players down the lane. An informal Scrabble club played almost daily, some members being the late Lolita Subasinghe; the late Isabelle Jayatillaka and her daughter Shanthi; Iris Serasinghe and Rene Fernando. Most aptly,  her hundredth birthday cake was a magnificently crafted Scrabble board and though she plays very seldom these days, the books and crossword puzzles are always within reach.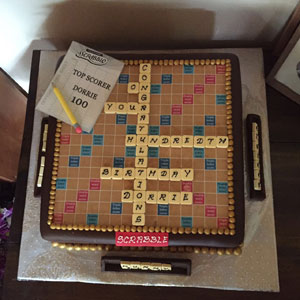 A keen reader all her life she is currently reading Jan Karon's book, 'Somewhere Safe with Somebody Good' – 'a story about a little village' – albeit slowly. Her alert mind that can never resist a crossword is today engrossed in Voltaire – a word game gifted by sister Barbara which she can play by herself. (Barbara, now 87, recently returned to Sri Lanka after 40 years or so abroad). This love for word games, she attributes to her mother who got her started on the puzzles in the children's pages when she was young. An excellent cook, her daughters-in-law speak of her legendary Christmas cake, mince pies, beef smore and roast beef which they could never recreate quite just as well.
Peter adds that she is Sri Lanka cricket's biggest fan and can never resist calling him in Australia, if ever Sri Lanka beats his adopted country.
Sitting by the windows overlooking her garden in her wheelchair every morning, she is still quick to answer the phone beside her and chat to the caller with great warmth. She is not without the frailties of old age and attendant health issues, all part of reaching this grand old age, she concedes, but the abundance of love and care surrounding Dorothie Ebell are God's blessings beyond measure showered on a gracious and indomitable lady.
- Renuka Sadanandan