Injury, emotions and survival
Argentina's Del Potro saga
View(s):
The talented and amiable Tennis artist Argentina's Juan Martin Del Potro was number 4 in the world ranking in 2014. He had wins against the top three and was expected to be a strong challenger to the number one position. So effective was he, on the court. Now in 2016 he is only ranked 273 and his first clay court match win in three years at Munich, Germany this week, became big news. How can this happen? He developed a serious wrist injury in 2014. This is the fine line between certainty and uncertainty every Tennis player walks on, regardless at which level they play. Every player is subjected to stress injuries, fight for survival and the struggle to cope with emotions privately.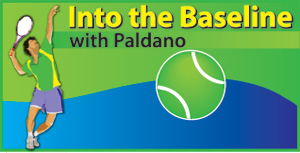 By no means is Del Potro a weakling physically. He stands at six foot, six inches, built very athletic and weighs nearly a hundred kilos and is known for his court coverage speed, signature forehand and services. Describing his stroke- making as 'lethal' is an understatement when measuring its effectiveness. For a tall man his racquet handling ability and flexibility often got good comments from ardent Tennis critics. At his peak, lesser opponents did not stand a chance to get even two games against him in early round matches on the ATP tour.
'Flexible joints'
The wrist takes a big beating in Tennis. It often goes unnoticed and often it is the un-noticed area during player physical development. When a player is strong and able to serve at around 130 mph and hit ground strokes around 90 mph, all the power generated by the body is transferred to the racquet then to the ball through the wrist. It has to be strong not only to transfer such power repeatedly but also to take the ball contact shock at impact every time. Sports Doctors tell us that our wrist is an extremely flexible joint and it is only an arrangement of floating bones kept in place by tendons and cartilages which is soft tissue. Strengthening it has been a major challenge to Tennis players throughout the games history.
In the sixties, some Sri Lankans were on tour with the legendary Australian Grand Slam winner Rod Laver. They related to me how Laver carried a 'squash ball' or an 'old Tennis ball' in his pocket and constantly worked to strengthen the wrist even while watching a movie. These are probably the little things done differently that made him. In many ways he was a racquet handler par excellence, than a mere stroke-maker. John McEnroe, Pete Sampras and Roger Federer are also of the same calibre. Laver's legendary strong wrist enabled him to hit a ball with the shortest possible back-swing and time possible, giving him the speed advantage.
The strokes that could have given Del Potro the wrist injury could have been his forehand and serve. He generates such speed on these two strokes which makes the ball dig into opponent's feet even after the bounce. It totally destroys the comfort zone of opponents' coordination. Doing just that Del Potro always got an easy ball to execute his signature shots and finish the rallies.
Impact on career
The peak life of a sportsperson is very short. If injuries and illnesses linger, the impact on the career and subsequently on the earnings will take an irreparable dent. Del Potro's ranking went down over a thousand positions in 2015. It is said that he was under such stress that he considered quitting Tennis several times. His return this year has put him in 273 at present. He tried a few 'come-backs' earlier but the injury resurfaced. In the match against Germany's Kohlschreiber, which was his third round match of the Munich event, he was tired and slow and Kohlschreiber the eventual winner outpaced him in every department.
The 'comeback' with tears
The men's professional tour is in Madrid now and the unseeded Del Potro, in the very first round had to play 14th ranked Austrian David Thiem who was the finalist at Munich last week. Del Potro 'stuns' the world with the same class of Tennis he impressed us in 2014. He beat Thiem in straight sets. In the midst of the standing ovation, Del Potro sat on his court side bench to shed a tear of relief. It showed the emotional trauma he has experienced in the last two years. Del Potro won the US-Open grand slam in 2009. If he continues to play at this level in 2016, I see no reason not to believe that his rankings will go back up into the Top Ten again.
George Paldano, Former int. player; Accredited Coach of Germany; National, Davis-Cup, Federation Cup coach–. georgepaldano@yahoo.com