Lanka, Pakistan joint op. to combat drug menace
By Sandun Jayawardana
Pakistanis largest number of foreigners arrested here for heroin smuggling
View(s):
Authorities in Sri Lanka wish to enhance cooperation with Pakistan in anti-narcotics efforts, amid mounting concern over the large quantities of heroin from that country, detected in Sri Lanka. Statistics also show that, in recent years, Pakistanis are the largest number of foreigners arrested here for heroin smuggling .
The latest such arrest occurred on Friday when Police Narcotics Bureau (PNB) officers arrested a 21-year-old Pakistani at a hotel in Kollupitiya, with seven heroin pellets. It later transpired that he had swallowed many more and was admitted to hospital, where 12 more heroin pellets were recovered from him by Friday evening.  The quantity and value of the heroin was yet to be determined at the time of going to press.
On Monday, Customs officials at the Bandaranaike International Airport (BIA) arrested another Pakistani attempting to smuggle in 8.7 kg of heroin with a street value of Rs 87 million, hidden inside the false bottom of his baggage. The suspect had arrived in the country from Lahore via Doha.
On April 22,  two Maldivians were detained at a hotel in Bambalapitiya, with over 1 kg of heroin.
Last month, a joint Navy-Police operation led to the arrest of 14 foreigners when police seized a trawler transporting 111 kg of heroin, suspected to have come from Pakistan. The suspects in this case – 10 Iranians, two Pakistanis, an Indian and a Singaporean, are still in remand custody.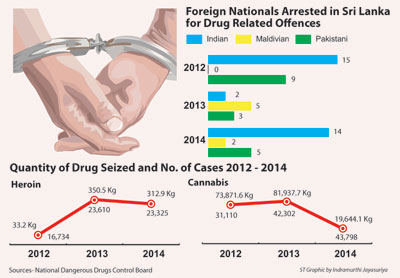 According to the National Dangerous Drugs Control Board (NDDCB) figures, Pakistanis make up the largest number of foreigners — 47 of the 129 arrested for drug offences from 2010 to 2014. According to the PNB, the vast majority were arrested for heroin trafficking. Pakistanis also formed the majority of foreigners arrested by the PNB in 2015 and 2016 for drug possession, with 7 arrested last year and 10 arrested so far this year for heroin peddling.
According to NDDCB Director General K. Gamage, it is not surprising that Pakistanis are the majority among foreigners arrested with drugs in Sri Lanka. "Pakistan borders Afghanistan, where there is a thriving opium trade (used to produce heroin)," he pointed out. "Given the porous border between the two countries, tons of drugs are smuggled in to Pakistan, from where they are smuggled in to other countries, including Sri Lanka, he explained.
Sri Lanka is also a transit point for drug trafficking, and traffickers or carriers of drugs ('mules') from Pakistan and India smuggle it to Europe and the West through Colombo/Male, reveals the 2015 "Handbook of Drug Abuse Information in Sri Lanka," published by the NDDCB. "Throughout the past five years, heroin seizures and arrest information revealed that South West Asian heroin (Brown Sugar) is mainly smuggled from India and Pakistan. It mostly originates from the "Golden Crescent Region", one of two main opium producing areas in Asia, overlapping Afghanistan, Iran and Pakistan, the report further notes.
Indeed, the largest haul of heroin ever detected in Sri Lanka to date, also has a Pakistani connection. In 2013, Customs officials inspecting a 40-foot container shipped from Pakistan, found 250 kg of heroin hidden inside cans of grease. The suspected 'shipper' of the drugs, arrested in Sri Lanka, was also from Pakistan.
While only 46 kg of heroin were seized by law enforcement authorities last year, the amount has spiked to 155 kg so far this year, due mainly to the 111 kg from the trawler seized in the joint Police-Naval operation.
In a bid to enhance cooperation between the two nations to combat drug trafficking, Minister of Law & Order and Southern Development, Sagala Rathnayake, will lead a high-level delegation to Pakistan in the coming weeks.
According to the NDDCB, the estimated quantity of street level supply of heroin in Sri Lanka is 985 kg per annum, or about 2.7 kg per day use. This quantity is sufficient for 45,000 heroin dependents.
The Sri Lanka Customs is responsible to ensure such drugs do not enter the country from authorised points of entry, namely airports and ports. According to a report compiled by the agency, aside from Sri Lankans, Pakistanis (21) and Indians (10) were the highest number of persons arrested for narcotics smuggling by Customs, in the past 15 years.
Customs Superintendent of the agency's Narcotics Control Unit, K.H.P. Kumarasiri, told the Sunday Times that officials have been monitoring flights arriving from India and Pakistan more than others, due to evidence that most drugs were coming in from these countries. "Smugglers from these countries are now trying to evade scrutiny by transiting via airports such as Dubai and Doha."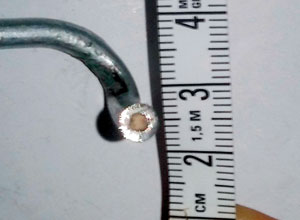 He revealed that the authorities were investigating suspicions that drugs were now starting to come in from the other main opium producing region in Asia, known as the "Golden Triangle." This region overlaps Myanmar, Laos and Thailand. Drugs from these regions are thought to be smuggled through Bangladesh via India and then to Sri Lanka.
Mr. Kumarasiri said Maldivians were using the country as a transit point to smuggle heroin brought in from Pakistan to the Maldives, which is facing drug problems similar to Sri Lanka.
"Meanwhile, 'mules' from South American countries such as Columbia were attempting to smuggle cocaine to Sri Lanka, while also using it as a transit point to smuggle the drug into East Asia," he said.
There have also been instances where drugs have been detected in the parcel post. Mr. Kumarasiri recalled a recent incident in Galle where a Russian had attempted to smuggle a yet to be unidentified narcotic hidden in a parcel of chocolates.