Fears that ancient giant tanks could dry up
By Anushiya Sathisraja
Bowsers kept in constant use by prolonged drought
View(s):
Thousands of villagers pray for rain as the ancient giant tanks and irrigation systems could dry up if the drought continues in the North, East and North-Central provinces, with the experts forecasting a continued need for trucked-in drinking water.
Government Agents (District Secretaries) and irrigation and meteorological experts voiced the need for continued supplies of clean drinking water as well as for containers, barrels and tanks to hold water.
Last week's sporadic thundershowers in the Western and Central provinces might not bring ease to the scorched lands and, hot conditions are expected to prevail.
The worst affected areas are Vavuniya, Polonnaruwa, Trincomalee and Mannar, where the temperature ranged from 35-39C, Meteorology Department Director (Forecasting) Sarath Premalal said.
"In the recent past the highest temperature of 40C has been reported from Vavuniya," Mr Premalal said. "This year, a number of agricultural districts are experiencing a severe dry spell. The southern and western parts will receive rains in the coming weeks but the heat and moisture in the atmosphere will result in sweating and discomfort until Mid-May," he said.
A few showers may occur in the coastal areas from Trincomalee southward to Hambantota during the mornings.
The maximum temperature of 39.1C was reported from Vauniya, while Nuwara Eliya had the minimum temperature, 12.5C.
A spokesperson for the North-Central Provincial Council said that all the schools in the district will be closed early, at 12 noon  due to the hot weather.
More than, 18,000 people are suffering hardship in Mannar district (Musali area) due to the prolonged drought, the Regional Assistant Director of the Disaster Management Centre (DMC), M. Riyas, said. Agriculture in Jaffna will come to a standstill if this condition persists for the next  two months, he warned.
The Divisional Secretary of Musali in the Mannar district, S. Keetheswaran, said that although water browsers were in operation they were insufficient. Long-term solutions,  such as reconstruction and de-silting of tanks and construction of new tanks were needed to prevent crop loss and drinking water shortages in times of drought, he said.
"The dried land has caused dust everywhere – most of the people here are suffering from coughs and severe respiratory illnesses," Mr. Keetheswaran said.
In the Trincomalee district, the Seruvila area is also struggling, although scattered rains were reported, more than 500 people are suffering from lack of water there. In Welikanda, Polonnaruwa, about 200 people are affected.
There have been many donations of plastic water tanks, water barrels and bottled water from private donors to be distributed in severely-affected areas such as Medirigiriya, Welikanda, Dimbulagala and other AGA divisions, Polonnaruwa Government Agent Nimal Abeysiri said.
Additional Vavuniya Government Agent Saraswathie Mohananathan said the Economic Development and Disaster Management Ministries will be conducting drought assessment from Monday, as Vavuniya is experiencing one of the hottest years on record.
A source in the Irrigation Department said the Parakrama Samudra in Ampara, which has a capacity of 947 million cubic metres (mcm), currently holds only 457mcm. In Trincomalee, the Kantale tank, which can hold up to 140mcm, has dropped to only 114mcm.
Hambantota's Lunugamvehera Irrigation tank, which can hold up to 225mcm, has only 125mcm. In Anuradhapura, the Padaviya reservoir that can hold up to 104mcm has only 5.31mcm in Polonnaruwa, the Minneriya tank has only 91mcm though the full capacity is 135mcm.
The Mau Ara reservoir that services the Uda Walawe National Park has dropped sharply from a total capacity of 40mcm to a mere 9mcm. "Water for human consumption and for wildlife is becoming a growing concern," the source said.
Agriculture Department Chief Climatologist Dr. R. Punyawardene says Sri Lanka's farmers must adapt to increasing intensity of weather patterns, whether heavy rains or severe drought, both of which are now simultaneously hitting the agricultural sector.
"The upcoming Yala season will present severe difficulties for farmers whose paddy fields are supplied with water from the smaller tanks in the Vavuniya, Trincomalee, Kurunegala and Hambantota districts".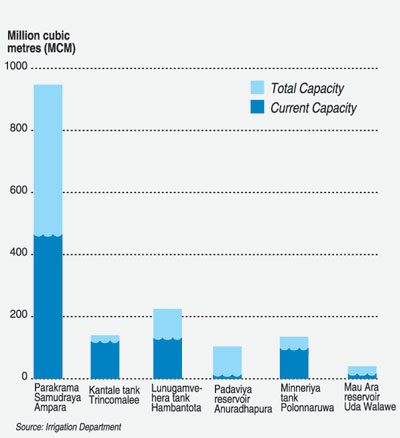 "Farmers should concentrate on other field crops such as soya bean, green gram, black gram etc.," Dr. Punyawardena said.
Sales of bottled water and soft drinks have skyrocketed and thambili sellers were seen having a field day selling at Rs. 70-80 a nut. Many vendors selling goods on the pavements and in marketplaces said business was dull as people did not want to stop in the intense heat.
"I've been selling thambili for five years and this year I've had the most sales," said Dharmadasa Ranawaka, 70, a thambili seller in Fort.
"Almost all the people who come to drink thambili buy five to six nuts. I have a regular customer who buys 10 nuts daily."
The heat is affecting workers' health. D. Kamaladasan owner of a bag-stitching factory in Wattala said that he had had very low sales in the past two months. Many female workers at his factory had been admitted to hospital with illnesses and some said they were too weak to work in the hot weather. "For almost three weeks we provided healthy foods and beverages to all the employees," he said.
Office workers thankfully opt to remain within their office environment, which is air-conditioned but others are not so fortunate.
"I've got to carry steel frames and rods to construction sites and it is arduous. If I don't work, I won't be able to support my family and kids who will have to starve," labourer Hemantha Sirisena said.