A crime is a crime even on campus, declares UGC
By Kasun Warakapitiya
University chiefs decide on tougher action against ragging
View(s):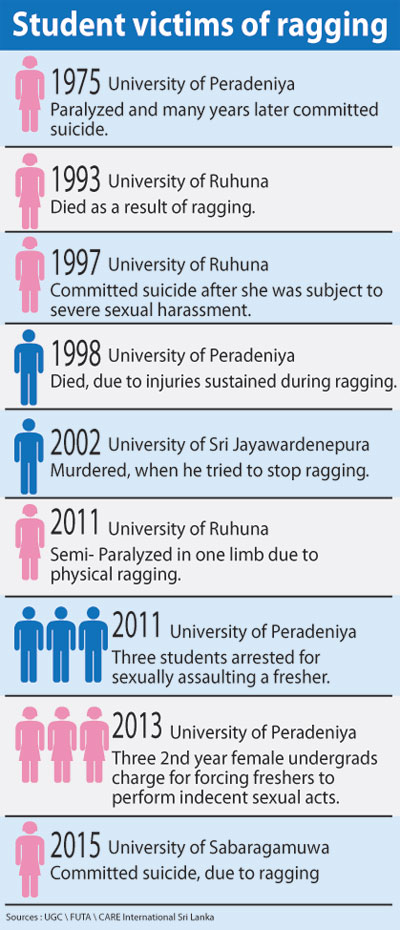 The University Grants Commission (UGC) of Sri Lanka wants ragging to be considered a criminal offence, as it plans to carry out a full scale anti-ragging campaign.
The move follows wide-ranging discussions at a 10-day conference in Colombo on "Preventing Ragging and Sexual and Gender-based Violence (SGBV)" with the participation of the Association of Commonwealth Universities, Indian University Grants Commission officials and other experts.
"Inside the four walls of the university, crimes as mental and physical harassment and sexual and gender-based violence including murder are carried out in the guise of ragging, but outside the walls of universities such acts are punished by the law," UGC Chairman Professor Mohan de Silva said.
He said universities had decided to properly implement the Act on Prevention of Ragging and Other Forms of Violence in Universities, empower vice chancellors to take actions against ragging and strengthen the marshal system.
The UGC has also planned to educate the students and parents about the policies of the higher education institutes.
They have also decided to make it compulsory for both students and their parents to submit affidavits saying that they understand the Anti-Ragging Act and will submit to penalties imposed under the Act.
Prof. de Silva said students found to be involved in harmful ragging would be expelled and prosecuted under the penal code under which a 10-year jail term could be imposed.
Prof Silva said universities would also set up ragging monitoring systems through internet, as the Indian delegation to the conference suggested, and allow students to make complaints online.
He said that there have been several deaths since 1975 from ragging at universities and therefore ragging must be stopped in every university.
During the conference, suggestions were made to train senior student councillors and student leaders to be champions for the cause of anti-ragging in the university.
Prof. Silva explained that universities are empowered by the UGC to take action against ragging while a tough new system to tackle the abuse is devised and applied over the next few weeks.
Kelaniya abuse continues regardless
Ragging continued at Kelaniya University as discussions on preventing ragging and sexual violence took place in Colombo this week, Chairman of the Kelaniya University Teachers Association (KUTA), Professor Sumathipala Halpita said.
Prof. Halpita said again fresher students were forced to stand in the sun on a public road singing obscene songs.
"On Wednesday the freshers were given holidays due to water contamination causing health issues but the 'student leaders' refused to release the students till 5.00 in the evening," he said.
He said non-academic staff had been attacked by some students who said the staff had ruined plans to force the freshers to remain on campus and be coerced into attending the May Day rally of a particular party.
The Deputy Secretary of the Associations of the Commonwealth Universities, Dr. John Kirkland, said much work needed to be done to ensure students were safe from ragging.
He said the Association of Commonwealth Universities had begun a campaign against ragging at 1985, when the practice had not been so injurious, but now ragging was a more complicated issue.
Indian experts explained the strategies they used to reduce ragging and sexual and gender-based violence in their universities.
The Secretary of University Grants Commission of India, Professor Dr. Jaspal S. Sandhu, said India had 740 universities and 40,000 colleges. He said the Indian universalities first modified the definition of ragging and created public awareness of the harm it caused while exposing all crimes, including sexual harassment, within universities to the media.
"We even created an online database and a system to lodge complaints and to collect data on ragging," he said.
Professor Sandhu said university authorities allowed NGOs and social workers to investigate and monitor university hostels.
He said students are encouraged to complain about ragging behaviour and to promote zero tolerance on ragging.
After a ragging complaint is lodged the complainant's safety is secured while withdrawal of the complaint is not allowed, Prof. Sandhu said.
"In three months, action must be taken on every incident and followed up accordingly. The action taken should be posted on the website of the UGC," Prof. Sandhu said.
Mother seeks justice over daughter's ragging suicide
A mother of a ragging victim who committed suicide is seeking justice over her daughter's death.
Mrs. Wasantha Padmini Elvitigala told The Sunday Times her daughter committed suicide last year after being ragged multiple times at the Sabaragamuwa University. She had been under treatment for depression following the abuse.
Mrs. Elvitigala said her daughter, Sayakkara Hewage Amali Chathurika, entered Sabaragamuwa University in 2014 and had been sent home shortly afterwards after falling ill due to ragging.
She said both of them had complained to the police about it but no action had been taken.
"My daughter wasn't eating so we took her to Homagama hospital to put her on a drip and brought her home but in the evening she tried to commit suicide," she said.
Mrs. Elvitigala said her daughter was subsequently admitted to the Kalubowila hospital for six days where the girl had described the ragging she had suffered.
"Doctors told me that there were two girls who tortured her and who used two boys to isolate her at the canteen. They forced her to watch obscene videos on their laptop. The doctors said that she had been verbally abused," Mrs. Elvitigala said.
She said afterwards her daughter had returned to the campus and given statements to university investigators about ragging but her return was short-lived as she had suffered from depression due to ragging.
Ms. Hewage was removed from the university hostel and privately boarded but continued to suffer depression while her university life continued. She attempted suicide once more.
By last year the young woman had become too apprehensive to keep attending university and one day she had been found dead in her room after committing suicide.
Mrs. Elvitigala said, after the tragedy she had complained to the police, Sabaragamuwa University authorities, the UGC, the Human Rights Commission and to the President's Office but yet action has been delayed. Her complaints were supported with medical evidence including information from doctors who had treated her daughter.
Letters by doctors as well as the dean of the faculty at which Ms. Hewage had studied had recommended she be transferred to another university.
Sabaragamuwa University Vice Chancellor Professor Chandana P. Udawatta said he was sorry about the incident and had provided statements to the Human Rights Commission.
He claimed the student was suffering from a mental disorder before she entered university.
In contradiction, Dr. Jayan Mendis, the former director of the National Institute of Mental Health, said he had been treating this particular student and explained that the girl had undergone extreme mental torture in the course of ragging and had become depressed as a consequence.
He said she had been normal and had not been mentally ill prior to being ragged.
Dr. Mendis said he had written to the university, requesting it to transfer the girl to Jayawardenapura University, and the faculty dean of Sabaragamuwa University had also written to the UGC requesting this, yet no transfer had taken place.
The mother of the student said she hopes action would be taken against those responsible for the death.
Founder Trustee of the Aman Satya Kachroo Trust, an independent anti-ragging movement in India, Professor Raj Kachroo, said the main factor preventing the authorities from taking action against incidents of ragging was the reluctance of students to make complaints.
He said that students found it difficult to go to a vice chancellor's office to complain, with trust being an issue, as well as the embarrassment caused by ragging.
"How can we expect a student who is reluctant to talk to his father about the torment he has undergone, to complain to a vice chancellor?" he asked.
Prof. Kachroo said the answer to that issue lies with a satisfactory complaints mechanism, and so university leaders had created an online complaints system on an independent website to help students.
He said government officials would never admit to their superiors if there was a lack of success in official anti-ragging programmes, so it was necessary for an independent body to give the authorities honest and accurate information about the efficiency of the programmes.
Parents' complaints pour in over Institute
Chairman University Grants Commission Professor Mohan de Silva said complaints were coming in daily from parents of victimised students at the Institute of Indigenous Medicine, which is part of the University of Colombo.
He said he had informed the Director of the Institute to look into the complaints, some of which were detailed.
Prof. de Silva said a particular political party was using the students for political activities under cover of ragging.
The President of the of Indigenous Medical Students Committee, Prabath Maduranga Baddage, claimed there was no such thing as ragging happening at the university and that some officials and student groups were trying to defame universities.