The Vaas saga
Playing forward on the back foot
View(s):
It was two decades ago in March, 1995: Lankan cricket was still in the wilderness. Yes, we did possess a talented side with a pocketful of seniors, but, none of their opponents took them seriously enough.
At that time, we only won an odd match at home, starting off the one against the star-studded Indians led by Kapil Dev in 1985. Following their defeat, a dejected Indian captain, Dev, made a public statement to the effect that the Lankans would never win a match overseas.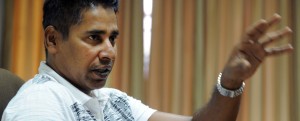 The next home win came against New Zealand in 1992 and there was another in 1993 where a little known left hander by the name of Sanath Jayasuriya hit the winning six into the mid-wicket fence in the only ball he faced to complete a five wicket win against England in a one off-Test at the SSC Ground.
By 1995, the custodian of Lankan cricket was Ana Punchihewa who outlined his vision with the sologan "the best Test playing nation by the year 2000" and incidentally Sri Lanka's tour of New Zealand coincided with the launch of the programme. So the Lankan cricket management compiled a five minute pep-up clipping named "We are the champions" for the team members and their spouses prior to the departure. It was something unique – an approach which they had never tried before.
The Lankan cricket was not minting gold by the buckets in that era. The Lankans took wings to the Kiwi Land with more courage and guts than the profits in mind. Explaining in his own words, Punchihewa said, "I flew to New Zealand on my way back from Hawaii where I was on an official tour and the lads were in a winning way. I was so excited that I promised every member of the tour squad a pair of cricket sun shades – a luxury by our standards at that time. Yes, in that game we discovered that unlikely hero Chaminda Vaas, who was instrumental in sealing off the win with both bat and ball, where he ended up with a match bag of ten wickets, two good knocks of thirties. In the second inning of that match Muttiah Muralitharan bowled 36 overs to finish with 5 for 64 and the Lankans completed their first overseas win.
"In the second innings Vaas bagged a haul of 6 for 87 and Muralitharan bagged 2 for 77 off fifty overs. But Murali's success was marred by an official complaint by New Zealand authorities about his bowling action – the first such complaint. But, at that juncture, no action was taken".
The Lankan hero of that game, Chaminda Vaas, was there with me this week prior to his departure to his cricketing school in Dubai to talk about that win in 1995 in New Zealand and the ups and downs of game in his own inimitable manner.
Vaas, without doubt, has been the most successful seam operator in the country since gaining Test status and he spelled out his initial day of glory in these words: "I must say always it was an honour and pride to be associated with Sri Lanka in any capacity. I remember when we took on the New Zealanders on their backyard it was going to be a tough proposition. For the first time the home team (New Zealand) had lost a series on Lankan soil and Ken Rutherford and company were smarting under that defeat."
The Lankans knew what was in store for us and our seniors had helped us prepare our team mentally. "The set of seniors – Arjuna Ranatunga, Aravinda de Silva, Asanka Gurusinghe, Hashan Tillekeratne and the others — gave us all the encouragement that needed. The wicket was green and it was going to seam; so we told ourselves, 'we will take the initiative and be the aggressors. We have to be careful that we keep to our lines right and hold on to all the catches that come our way'.
"Our ploy worked and we batted and bowled better than our counterparts. I remember that I had the wickets of opener Darrin Murray, Stephen Flemming, Shane Thompson, Gavin Larsen and the last wicket of Walmsley, in the first innings, and it was a very momentous occasion for us."
"However our next outing against the Australians was not so joyous as we had to face the Muralitharan saga for the first time in reality. But, I must say skipper Arjuna Ranatunga was a tower of strength and we all gathered a lot of strength from that fact."
Vaas explained that by the time when we came up for the World Cup, we were battle worthy. "We took a game at a time and played to a set plan. We played to win each game, and it worked just the same. Then suddenly after lifting the cup and returning to the country only then did we realise that we had really won the ICC World Cup and we were the world champions."
Gradually the combination of Muralitharan and Vaas kept on growing and they became a pair that hit the chord perfectly. The Lankans were growing in confidence; if the batsmen backed us we were ready to beat any opponent. He said: "We both were among the wickets. I still remember that there were times that Muralitharan used to urge me to keep holding to one end tightly, so that he could rip the opposition's batting at the other end."
But like all good things, the weaning part was also eminent. Gradually there were factions that began to emerge within the playing eleven. "Even as a youngster I always wanted to do my best. I always played for my country. I took pride in playing for my country. I always wanted to achieve something special. So I set my own goals and targets to it. I told myself that after the first ten matches I should be taking a certain number of wickets and I kept working on them. I always wanted to play the longer version of the game, because I thought playing Test cricket was a bigger challenge.
"At the same time I worked fanatically in my fitness regime. As a result, I played for a long period of time with a minimal number of injuries. That is why even while bowling on slow turning tracks at home I was among the wickets. I used to bowl long spells and kept on worrying the oppositions".
However during the tail-end of my career there I countered some problems as a result of the factions within the set-up. I remember them telling me that I had dropped my speed, but, I told them I still could be effective with my tight length. But, the factionalism took its toll. I remember I requested for two matches before my retirement. By that time I had served the country for fifteen years and I had played over a hundred Test matches and three hundred ODIs, scored 5,000 runs at International matches and bagged over 350 Test wickets and 400 ODI wickets. But, they gave just one match to retire."
He said upon his return to the playing field as a coach, there were some of the faces still there engaged in the game in some capacity or the other. Once again it was the same forces that were at work again. "When I was handling the bowlers I noticed that some of the bowlers were working with their own trainers. I wanted to bring the training programme under one wing, but, that did not happen that way. Finally I felt that there were forces within, trying to use certain members to get rid of the others and in turn cut them out also from the equation. However, finally it is our own cricket that has suffered as a result of this undying power struggle."