Sailors pip Red Shirts at the post
By Zainab Hassen
View(s):
After an otherwise enthralling and electrifying performance CR and FC lost their Dialog Division 'A' Inter-Club Rugby League Tournament match by a whisker, to a formidable Navy SC side by one point 20-21 at Longdon Place yesterday.
CR almost had it, but Navy held their nerves to win and hand them their third successive defeat – Pic by M.D. Nissanka"]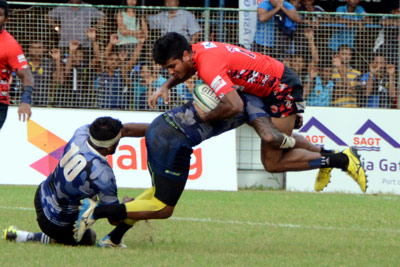 The Red Shirts slip further down the points table with their third consecutive loss, making their hopes of winning the League title a distant dream.
After leading 16-13 at halftime, the Sailors went on to finish off the game in style with a tally of a two tries, a conversion and three penalties. The hosts were able to secure points through two converted tries and two penalties.
The Sailors drew first blood with a penalty hammered through by fullback Thilina Weerasinghe as they took an early lead of 3-0.
Ten minutes later, Weerasinghe put over another penalty giving the Sailors the edge by rattling the home team with a six point lead.
After a great struggle Kavindu de Costa, the youngest but the talented of the Costa brothers this season, went over the tryline to give CR a comeback boost.
With Prince Chamara's penalty kick soon after the conversion of the try CR took the lead by 10-6. Despite applying pressure on their opponents CR failed to convert their effort into points as they faltered at their 25-metre zone for a good solid 15 minutes.
Meantime CR managed to grab more points through a penalty off the boots of Chamara. Then a beautiful counter attack by the Naval team produced an exciting try by the flanker Yoshitha Rajapaksa, who ran across the whole park to plant under the post.
Weerasinghe made the conversion and followed it up with a penalty as Navy took lemons with a lead team with 16-13. The turnaround brought in a rejuvenated Navy team determined to hold fort.
They exerted their dominance through centre Lee Keegal who scored an impressive try on the left flank soon after the break. This time Weerasinghe failed to find target as Navy expanded the lead by 21-13. CR, despite their brief lead, struggled for most part of the game.
They held majority of the possession but did not capitalize on the opportunities as CR repeated the same errors on and on.
After much effort centre Sashan Mohammed, hailing from Kandy, put over a try in the dying stages of the match, giving hopes for a CR comeback with almost three quarters of the game done.
With Chamara's conversion they were one point behind the Sailors at 21-20. But the last 15 minutes of the game proved to be in favour of the Sailors, who kept firm grip on their one-point lead not letting CR defend their home grounds.