In spite of the bag of wind, Kandy prevail
By Aubrey Kuruppu
View(s):
It was tough going. At times the struggle was titanic. But at the end of it, Kandy SC showed that they were invincible in local rugby.
 Kandy SC was too hot to handle for hosts Havelocks – Pic by Ranjith Perera"]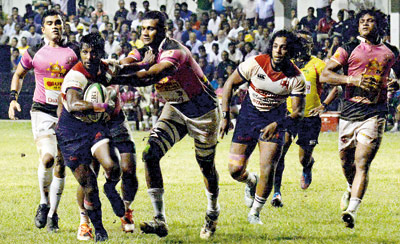 A scoreline of 18 points (1 goal, 1 try, 2 penalties) to 8 (a try and a penalty) would show that there was some leeway between Kandy and title-chasers, the Havies in their Dialog Division 'A' Inter-Club Rugby League Tournament game at Havelock Park yesterday.
The previous match against the CR was also tough and unyielding and the difference, statistically, was less.
Yet, Kandy must have been thankful when the ordeal had ended. The players knew they had been in a fight. For some 7-8 minutes midway in the second half, the Havies threw almost every man-jack into a concerted push to go over the line.
The Kandy defence countered splendidly, though they wilted a few minutes later and enabled winger Nishon Perera to sneak over.
Kandy's line out work needs attention. Early in the game there was a stray pass or two. Crucially, one was just short of the line.
In recent games Kandy had always been led early on (yes, even by the 'CH').
However, they seem to have upped the ante for this game as they went ahead via an Arshad Jamaldeen penalty. Fazil Marija's attempt at a drop goal from around 25 yards out was off target.
Vishwamithra Jayasinghe, the right winger, enlarged the winner's lead when he finished off a move that began in the Havies' 22. Jamaldeen could not oblige.
The Havies came back strongly in the last five minutes of the opening half and took play to within five yards of the Kandy line. But Kandy resisted fiercely. The short whistle a couple of minutes later must have been music to Kandy's ears. 8-0 at the break.
The Havies began the second half by indulging in all out attack. After a 40-metre penalty was kicked astray, Rimzi Jamaldeen made amends by converting a simpler one (8-3). His namesake Arshad, extended Kandy's lead by kicking over a penalty (11-3).
There was one man who stood head and shoulders above the other 29. Fazil Marija was at times brilliant. His opening up of the Havies' defence split-second passing and speed of the mark certainly caused problems to the Park Club.
Marija capped his performance with a try when he booted the ball from mid-field, followed up and in a straight-sprint beat the lone defender to score. Arshad Jamaldeen converted and Kandy led 18-3 at this stage.
Sudarshana Muthuthanthri and Rahul de Silva were very prominent in Havies' attacking moves. With time running out and the hosts attacking the line winger Nishon Perera somehow wriggled over for their solitary try.
Two tough games in succession and one can't blame the Kandy supporters for thinking the worst is over. Yet, the Navy will be striving to torpedo them next Sunday. Referee – Aruna Rankothge.