Rat killers, kerosene lead this year in household poisons
By Kumudini Hettiarachchi
View(s):
Rat-killers and kerosene topped the list for 'household poisoning' so far this year, ousting mosquito coils and sprays and toilet cleaners from last year. Strong calls for the prevention of household poisoning were issued by the National Poisons Information Centre as the National Poison Prevention Week begins tomorrow.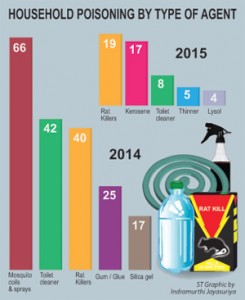 The top five causing household poisoning this year also included toilet cleaner, thinner and lysol, said Centre Head Dr. Waruna Gunathilake, quoting statistics collected from patient admissions to the National Hospital in Colombo. In 2014, rat-killers, gum/glue and silica gel were the other culprits.
While 2014 had a total of 377 such admissions, this number had risen in 2015 to 458 although the year has not ended yet, the Sunday Times learns with 281 females and 177 males making up patient numbers in 2015.  Of the 686 telephone enquiries made from the centre with regard to household poisoning, the majority (382) were for adults in the 20-60 year age-group, with children in the 3-14 year age-group (229) also being vulnerable.
Dr. Gunathilake stressed that for prevention, parents should be conscious that household poisoning could occur in the bedroom, bathroom, kitchen, store-room, garage and shed and even in the garden. "If there is a toddler or a small child, whatever could cause poisoning should be kept out of reach and under lock and key," he said.
The centre has made a concerted effort to prevent such poisoning and during the coming week will continue to make people aware of the dangers that may be lurking within their very homes. As its tools in spreading the message, the centre is using stakeholder meetings, seminars for the media, awareness campaigns through the distribution of CDs, posters and leaflets to peripheral health institutes frequented by men, women and children, lectures and educational exhibitions.
Hotline
The National Poisons Information Centre based at the National Hospital, Colombo, may be contacted on hotline: 011-2686143 or e-mail: infotoxlanka@gmail.com