Murder of a mermaid
By Malaka Rodrigo
Police inquiry into rare dugong killed in Mannar
View(s):
Police are investigating the tragic killing of a dugong, the rare creature possibly believed to be a "mermaid" in olden times, in Mannar after the Navy came across a group of fishermen chopping up the mammal's flesh on South Bar beach.
A local resident, Mohammed Haleem, said the Navy handed over the culprits to police and wildlife officers last week, and that they are out on bail.
Dugongs are sometimes hunted but they also fall victim by being inadvertently included in fishing catches or drowning after being entangled in mist fishing nets or falling victim to dynamite fishing. The cause of the action that killed the Mannar dugong is unknown. Its vital organs have been sent for analysis.
Also known as sea cow or muhudu-ura (sea pig) in Sinhala, kadal pandi in Tamil, the dugong (Dugong dugon) is a marine mammal that primarily feeds on seagrass. Dugongs were hunted openly for their flesh and oil decades ago and their population plummetted.
In the 1970s, legal sanctions to protect dugongs were incorporated into legislation but rarely enforced. It is a known secret that still several animals are still killed annually, researcher Dr.Ranil Nanayakkara said.
The Gulf of Mannar and Palk Bay are the last known hideout in Sri Lanka and India for these elusive beings. The International Union for the Conservation of Nature (IUCN) Red List on threatened species categorises the dugong as "vulnerable to extinction".
The dugong population in the Gulf of Mannar and Palk Bay in Sri Lanka could be "critically endangered", points out the IUCN Sri Lanka's country office's Marine and Coastal Thematic Area Coordinator Arjan Rajasuriya.
A mermaid related to an elephant
The dugong, referred to as a sea cow, sea pig and even sea camel by different communities, is scientifically close to elephants. These mammals can stay underwater for six minutes without surfacing.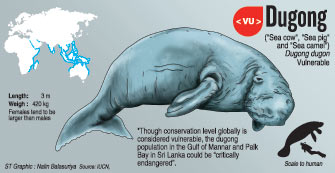 It is also claimed that the legends of mermaids have been inspired by dugongs and manatees as they sometimes breathe by "standing" on their tail with their heads above water. With forelimbs containing five sets of finger-like bones and neck vertebrae that allow them to turn their heads, it is possible that
dugongs and manatees could be mistaken for humans
from afar.
In global terms, there are more stable dugong populations in places such as off Australia but if quick action is not taken the species' future is indeed bleak in our local waters.
Dugongs are long-lived, and animals as much as 70 years of age has been recorded. But it is a slow breeder, giving birth to a single calf after an 18-month pregnancy. The mother dugong then looks after the calf for more than one and half years. So the kiling of even a few dugongs can have serious implications.
The United Nations Environment Programme (UNEP) confirms that the dugong is already extinct in several island states and suffering steep declines in at least a third of the areas where it is found.
It is ironic that the dugong at Mannar was killed just when a new project to protect dugongs and their seagrass ecosystem had begun, Mr. Rajasuriya said.
Dynamite fishing poses grave threat
Illegal dynamite fishing is common on many parts of the east coast, and a marine researcher said his team heard dynamite blasts almost every day while surveying the Vankalai coral reef, located in dugong habitat.
It is not known how many dugongs are killed in blast fishing, which destroys underlying ecosystems such as corals in addition to killing all living creatures within range of the blast.
A pair of fully-grown dugongs were killed by dynamiting in 2010.
Blast fishing Arjan Rajasuriya, Coordinator of the International Union for the Conservation of Nature's (IUCN) Marine and Coastal Thematic Area, said dynamite fishing occurs particularly in around Errakkandy, north of Nilaweli, and around Batticaloa and Kalmunai. It is also commonly practised by fishermen in the Palk Bay and Gulf of Mannar, Mr. Rajasuriya said.
He witnessed the destruction the dynamite caused to the corals underwater. "If explosives are used at close range while the researchers are under water they could cause severe injuries. We had to chase the blast fishermen away in order to do our work," Mr. Rajasuriya said.
Constant sea patrols can prevent blast fishing only to a limited extent so Mr. Rajasuriya believes this matter has to be pursued mainly on land to prevent explosives going into the hands of fishermen.
Trying to arrest culprits at sea is difficult as there are many ways they could evade arrest, such as by dumping the explosives when the authorities are spotted. It is also difficult to prove that a haul of fish had been killed with the use of dynamite.
"We need to turn our attention to land and find out how these fishermen get explosives. A good intelligence network and consistent action could effectively seal off the sources of dynamite," Mr. Rajasuriya said.
Sri Lanka signed the Memorandum of Understanding (MOU) with UNEP and the Convention of Migratory Species (CMS) in 2012 to protect dugong through the Dugong and Seagrass Ecosystem Conservation project. The project's Inception Workshop is scheduled for next month.