Vehicle invasion: A scene from the future
View(s):
In 20 years our roads will be choked with motor vehicles, experts warn
Poor public transport the reason, BRT, MRT systems the way out
The statistics are alarming. In just twenty years, there will be three times more vehicles on Sri Lanka's roads than today. Car registrations hit an all-time record in June 2015 and are set to rise further.
Sector professionals warn that this is "only the beginning of a steep curve". "People have to be aware," warned Prof. Amal Kumarage, sector specialist and Acting Chairman of the National Transport Commission. "We are reaching the peak."
"The vehicle population is exploding," agreed Murtaza Jafferjee, Managing Director of JB Securities, who recently analysed the numbers. "This country cannot cope with this level of growth." On the one hand, much of this expansion is fired by credit. On the other hand, use of public transport is sliding at a rapid pace.
"The share of public transport is now down to 50 percent," Prof. Kumarage said. "Half of all trips are by private transport. The public transport sector has been losing about two to three percent a year." While some policymakers may see private vehicle ownership as a sign of progress, experts see urgent challenges.
Increased congestion will dampen economic growth due to a loss of productivity, Mr. Jafferjee predicted, echoing many others. Vehicle imports and greater oil usage will strain the trade balance. Meanwhile, the existing transport network and system is "less than satisfactory", observed Dr Lalithasiri Gunaruwan, Secretary to the Ministry of Internal Transport.
"No one is happy about transport in this country," he declared. "The clientele is not happy. The policymakers are also not happy. Institutions are loss-making, inefficient, do not delivere required outcomes and are eating into public coffers."
Time is squandered on urban roads due to congestion. In rural areas, consumers complain of inaccessibility, infrequency or cost of transport. Pollution is a hidden killer. Around 40 percent of traffic accidents occur in the crowded Western Province; a staggering 44 percent of victims are pedestrians. Ten percent of all transport expenditure is attributed to the same Province.
These issues have been known for years—and so, for that matter, have the solutions. But they are far from being implemented. The Ministry of Internal Transport and the National Transport Commission have now put forward a comprehensive proposal in a fresh attempt to make the Government see sense.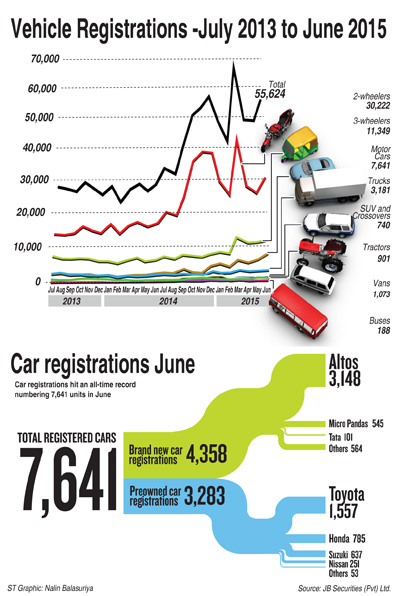 The Colombo Metropolitan Regional Transport Master Plan was recently presented to the Government's Economic Affairs Subcommittee headed by Prime Minister Ranil Wickremesinghe and several Cabinet members. It is to be referred to a second committee chaired by R Paskaralingam, Advisor to the Prime Minister.
Implementation will require an estimated Rs. 1,700 billion over 20 years. This investment is spread across all modes of transport with buses and bus rapid transit (BRT) getting 12%, railway 33%, monorail 17% and roads 23%. Lenders such as the World Bank and Asian Development Bank have shown interest in financing some components of the ambitious roadmap. The Government, however, could move faster. The subject of transport has not figured in the political debate at all.
"This is a fully fledged 20 year development plan," Dr. Gunaruwan enthused. "It describes how to address transport sector maladies and to bring mobility to a level required to match development standards and to overcome the middle-income trap."
Many Asian capitals suffered because their cities became uncompetitive, he said. If Colombo fails—and there is very real danger of that happening—there is no alternative city for business to go to. Across the Palk Strait, India is investing heavily in urban transport, with monorails, BRTs and metros in the pipeline. "Unless we do similarly, we will be much worse off in five to 10 years when compared with Indian cities," Dr Gunaruwan warned.
There has been inadequate attention to public transport, to integrated city or transport planning. This has resulted in a "limping evolution" in the sector that has been heavily dependent on Government coffers. "In the last 50 years, the railway and Central Transport Board have lost impetus, health and capability," Dr. Gunaruwan reflected. "The country's two main transportation wings have been let down, starved of investment, not developed institutionally and not sustained to the level of international evolution."In the meantime, private transport was driven by demand of people who had the affordability—and they went for cars. This was fueled by an increase in per capital income. "Sri Lanka is not at the steepest rise," Dr. Gunaruwan said. "It's at the beginning. If we are at this level now, when incomes go up we don't know where we will be."
The Master Plan takes all those realities into account and proposes a "public transport intense development". If implemented, there will be in the Western Province high quality public transport that enables faster, cheaper, cleaner, more efficient transport. This will free up more livable space in the city, allowing for more walking, cycling and recreation.
Designers of the Master Plan have proposed the most appropriate modes of transport for identified "corridors". For instance, BRT is best for the Galle Road; rail for Battaramulla to Malabe; buses for High Level; BRT for the Kandy road; and rail for Negombo road.
Sri Lanka has so far focused on building highways. "On a highway, a line of traffic takes 3000 passengers per hour," explained Prof. Kumarage. "A railway takes between 15,000 and 20,000 passengers per hour and a BRT takes 12,000.""We are not saying highways are not needed," insisted Dr. Gunaruwan. "We are saying we must know where to prioritise and how to invest private money which is limited and scarce." The Master Plan identifies corridors for new railways, such as from Colombo to Horanawa via Kottawa, while there is a national railways plan for the entire country.
There are also proposals to arrest the sharp increase in road accidents through a coordinated approach—"without different agencies doing bits and pieces of road safety on their own". There will be more facilities for pedestrians.
Transport specialists are critical of Government policies to promote three-wheelers. "Three-wheelers are a killer vehicle," Dr. Gunaruwan said. "We must discourage it, not encourage it. They are also inefficient."
The Master Plan is ready for implementation. But it needs more State patronage. The answer might lie in making the public more aware of how much better their lives could be if they could get to where they wanted faster and more comfortably than they do now.