Summa Navaratnam
View(s):

I wrote this same tribute ten years ago on his 80th birthday, and the same holds true ten years on, as he celebrates four score years and ten.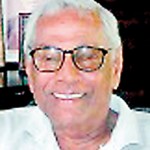 On the 21st of May this year, an illustrious son of Lanka celebrates his 90th birthday. Summa is not 90 years old, but 90 years young.
In our country, people go to great lengths to write flowery or grandiose accounts of their friends and relatives once they have crossed over to "the other side", and often, it makes one think that people are appreciated only after they have left our earthly shores. I am sure that the dear departed will be scanning the newspapers from their heavenly abode, and appreciating the sentiments expressed, but how much nicer it would be if we honoured a friend, and wrote all those wonderful things while they were still with us on terra firma, and not when fluttering their heavenly wings in some celestial abode.
It is for this reason that I pen these lines to salute Summa Navaratnam, one of the greatest sportsmen that Sri Lanka has produced in the last hundred years.
I would have to take out a special supplement if I were to chronicle Summa's achievements in the field of Sports, but will highlight a few notable ones. He was a brilliant athlete, who was once "the fastest man in Asia" (no pun intended!), a dazzling rugby player who captained Royal College in both these sports, and later the National Team. Above all, he was a sincere sportsman, who spent his whole life giving back to Rugby and Athletics, his time and energy – with never a thought of a financial reward. Today, when School Coaches are paid fantastic salaries, locating an honorary coach would be as difficult as finding a needle in a haystack. Summa has the unique distinction of having coached the ruggerites of Royal College, at various stages, for over 60 years, without any remuneration. This he has done with the same zest and enthusiasm that he displayed as a dashing wing three quarter 70 years ago. I still remember the time, may be ten or eleven years back, during the Royal College rugby practices, my husband and I used to walk round the grounds with Summa, and often, he would sprint across the grounds at top speed to admonish some budding ruggerite who needed correction. "You guys are useless beggars," he would shout….. which reminded Ralph of how he used this identical phrase when he coached the Royal ruggerites in 1953.
I first met Summa when I was flower girl and he was the Best Man at my uncle's wedding, and for many years I respectfully addressed him as "Uncle Summa". Later, we spent many happy years as neighbours in Castle Terrace, and the "uncle" tag was dropped, as it would have made him feel old and Summa never grows old. Even today, the spring in his gait, the mischievous twinkle in his eye, and the charm he exudes, is the envy of so many men half his age. There is a saying that "A woman is as young as she feels, and a man is as young as the women he feels". Could this be Summa's secret?………….no offence meant!!!
You were part and parcel of our family, being my uncle's best mate for life. You coached Nim to win a medal at the Asian Games, coached Lak and Bryan in rugby, and a generation later coached Lak's sons Gemunu and Lakshman, and honed their rugby skills.
Thank you Summa for all that you have done, and for being such a wonderful friend. May God bless you on your 90th birthday, and grant you good health, and the same vigor and vitality in the coming years.
Dr Sriani Basnayake