Row-row – eight in a boat
By Naushad Amit
View(s):
For Sithira Wickramasekara, an ardent rowing enthusiast who had never rowed as a youngster but now rich and vibrant with new ideas, his new collection of the two eights boats are the new Ferraris in rowing of Sri Lanka. Bringing down these elegant boats which are hallmarks of the well renowned century-old Oxford-Cambridge Boat Race Wickramasekara presently sounds a contended man who had fulfilled many ambitions.
"This was one of my dreams, to see eights boats racing alongside on another. Now they are in Sri Lanka and my next mission is to create a culture that would last forever. All I want is rowing to expand in Sri Lanka, where youngsters have the born talent for water-sports," Wickramasinghe told the Sunday Times.
The Bolgoda Lake Rowing Club (BLRC), which is around eight years old now, is a result of Wickramasekara's ever growing love for rowing. However rowing was a strange entity for Wickramasekara nine years ago, despite being a member of the elite Colombo Rowing Club. But coincidentally it was his elder daughter's persuasion and one of his closest friend's lengthy enlightenment that dragged him into rowing.
"My elder daughter was an innocent, backward and homely character. At 13 she wanted to join the rowing team of her school but being a father I objected sternly. After discussing with my wife, I let my daughter do rowing thinking that she might give it up any time. But her interest grew day by day and she eventually became the captain of her school's senior rowing team. In the meantime I met a good old friend of mine, a former national oarsman, who objected my way of thinking when I met him at the Colombo Rowing Club. He was coaching my daughter's team. For
years I watched her become a strong girl both mentally and physically and I thought to myself what a wonderful sport rowing is. And that's where all began," Wickramasekara recalled.
In 2008, he formed the BLRC, on a property belonged to his family in Gorakana, Moratuwa by the Bolgoda Lake banks. His vision helped rowing reach schools that were not famous for it, but by today many of those schools produced strong rowing teams and oarsmen.
His vision did not stall there. With the highest regard he had for armed forces, Wickramasekara gave room at his rowing ranch for teams from the Army, Navy and Air Force to train and compete and even taking the Rowing Nationals thrice to Bolgoda.
"All these I did with good intention. A sport, be it any, should not limit to a certain group or level. When there is potential among others, we should try to take it to the mass. Sri Lanka has all the natural surroundings and requirements for water-sports and why should we not let less privileged schools to taste a bit of this wonderful sport," he asked.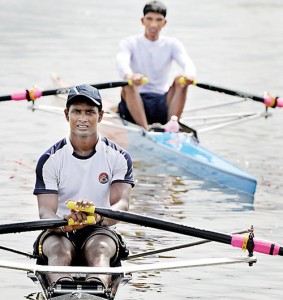 Among his latest missions besides promoting the two-coxed eights rowing regatta, Wickramasekara hopes to add another feather to his fleet in rowing. It's none other than the one-acre island his family owns on the Bolgoda Lake, just above a kilometre away from the piers of the BLRC. He hopes to add more facilities into it and develop the property so one day rowers from all walks of life could make use of it.
"These properties – the BLRC and the island known as Ranmal Marina – should someday go to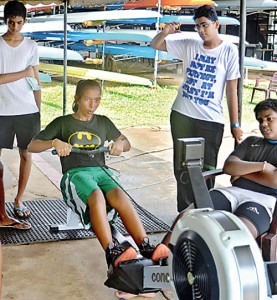 a Trust that would develop rowing and help the sport reach more less privileged youngsters. The eights boat race which I'm going to promote is just a prelude to this long term plan," Wickramasekara stressed with hope.
The two Ferraris in rowing as he describes about the two eights boats should create many pathways in rowing. For the starter Wickramasekara and his energetic team at BLRC hopes to debut the two boats through the inaugural Iran Oarsman/Oarswoman Regatta 2015, which he plans to hold during the month of July. The difference between the usual rowing regattas and the intended regatta in July will be the distance, which requires more endurance and power than the usual one or two kilometre races. This will be a time pursuit race starting from BLRC, with each boat starting on timed intervals. The race will expand at length from six to ten kilometres with one or two turns during the course, a new experience for local rowers.
"This regatta will consist of two categories, the Junior for Under-19s where the race distance would cover six kilomteres and the Open category that would cover 10 kilometres. It will be open to all institutions as well, who will have the access to the two brand new eights rowing boats. These boats, we have seen on the waters of the Thames River in London where the annual Oxford-Cambridge, which is considered to be the oldest and most prestigious regatta, rowed in eights. On the success of this, the boats will be available for other dual battles such as Royal-Thomian, Ladies-Musaeus and Colombo-Moratuwa Universities and so on," Wickramasekara detailed.
Wickramasekara's hallucination will be the very first time when two-coxed eights rowing boats will be seen in action after 150 years of rowing in Sri Lanka. As he stated his club, the BLRC has a twin objective — raising the standards of rowing in Sri Lanka by developing its infrastructure to international standards and taking the sport beyond the confines of Colombo, where much of the youthful talent lies untapped. This innovation is the first time that a lengthy distance is raced in any kind of rowing boat. The regatta is also held under the guidance of the Amateur Rowing Association of Sri Lanka.