Nadal's reign in Spain, shaken
Andy Murray wins Madrid-Open ATP-1000
View(s):
Spain's Madrid-Open has been a symbolic title for Spaniard Rafael Nadal. Not only it is the capital but it also is Nadal's favorite surface, clay. Nadal has been winning the Madrid title for the last five years but this year, it was Andy Murray who played a classical clay court game, often looking like 'Nadal at his best' and beat Nadal in the finals. In that match all that one would have expected from Nadal, game and shot-selection, came from Murray. More like a Nadal meeting Nadal!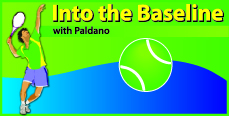 This is Murray's first win over Nadal on clay. He achieved it breaking Nadal's service game three times and without losing any of his own service games. The score of 6/3, 6/2 says how easy the match went. From the outset Murray consistently 'engaged' Nadal tactically and sustained it, taking away the comfort zones of free space and time. Service aces provided Murray with at least one point in each game and in the latter stages, two. His return of service denied Nadal of all service advantages. What was very impressive was Murray's ability to have the best tactical position between shots to cover court. This forced Nadal to go for premature winners and ended up making too many unforced errors.
The last game of the match showed that almost nothing was left of Nadal. It fizzled out to be a game with less than 20 shots. Nadal at his best was very physical, lethal and produced one of the best reaction and power-based games Tennis has ever seen. Now, his injuries have slowed him and are not permitting him to bring that game out effectively. There were distinct signs of his inability to coordinate well. He miss-hit over ten shots and was often late for his forehand after covering his backhand with an inside out forehand. These are not Nadal's brand of Tennis. All the long rallies went to Murray which created doubts on Nadal's present mental toughness.
Madrid's 'show down'
If there is another clay court event that has the strength of the French-Open Grand-Slam in Paris, it is the Madrid-Open but it was not so this year. The Madrid-Open in its own way told the story of Tennis in 2015.
In the men's side Roger Federer was beaten by the Frenchman Gael Monfis in Monte-Carlo this year and last week in the Madrid-Open, Federer was beaten again by an 'up and coming' junior Australia's Nick Kyrgios. This match lasted well over two hours and pushed others into a late night show last Wednesday. Federer is already playing only selected events and even this seems to be difficult for him to handle now. Federer's history is a big Tennis story but the signs are up to indicate that he is in his tail-end of this glorious career.
In the early rounds Murray played against the German, Kholschreiber. It was played after the Federer/Krygios match and when Murray shook hands with the German after the three set win, it was 3 am on Thursday. This is another taxing feature good players have to endure to survive, that is to play at a time when the body is used to sleep. Murray was not happy with the match scheduling and the issue, I am sure, will get the attention of the professional controlling bodies.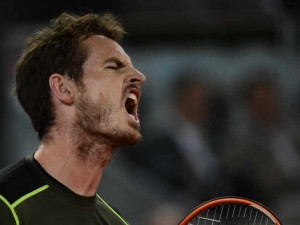 Players are taking care not to burn-out by over-playing. World's number one Novak Djokovic did not play the Madrid-Open. He has set his sights on the French-Open instead. Fatigue cannot be overcome by routines or by magic. So he is prudently resting. So far this year, he is the most successful player and he has the possibility of winning the four major Grand-Slams. French-open at the end of May is the second leg of it and Djokovic already has the first of the Grand-Slams in his bag, the Australian-Open.
The 'up and coming' men have been appearing in the quarters regularly. Names like Bulgaria's Grigor Dimitrov, France's Gael Monfis, Australia's Nick Krygios and Poland's Jerzy Janowicz have been showing up in the advanced rounds of events frequently in 2015. They are future potential to fill the top ten ranking positions. The current top ten includes the sole Asian, Kei Nishikori of Japan in a remarkable position at 5. Women's Tennis in Madrid-Open
Serena Williams could not hold out the power of Czech Republic's Petra Kvitova in the semi-finals. Considering it to be Serena's first clay event for 2015 and having reached the semi- finals should be a strong signal of her challenge for the French-Open title. Kvitova, who is also another Wimbledon winner, has shaped herself well this year. In the semi-final, Kvitova was able to overpower and hit a string of winners against Serena. That was no easy task and then went on to win against the Russian Kuznetskova for the title. 'Diva' Sharapova, also returning from a leg injury lost to Kuznetskova in the semi-finals. There is a very strong line up of women players at the moment in the first 25 of the world ranking. This has made any match after the 3rd round to be a tough match to survive.
Among the women, European clay so far has produced mixed results. To the surprise of everyone, the number two seed Romania's Simona Halep was beaten by French player Alize Cornet ranked 28, in the very first round when Halep was tipped to win the event. Halep has been seen leading but not winning tough matches recently. This in Tennis is more of a psychological than playing skill issue. Many players show this trend of 'choking' when leading and 'fighting' when down. It has something to do with self-confidence, often seen in teenagers and common in countries like ours.
Murray's maiden ATP 1000 series title
Andy Murray's win in Madrid places him as one of the top contenders for the French-Open title. If he could repeat Madrid final's performance for seven rounds in the French-Open, a Scotsman could be doing what the former British player Tim Henman could not achieve. That is, placing England's Tennis in the Tennis map of the world again. Madrid title is also Andy Murray's maiden ATP 1000 win. Watch out for the French-Open, in the latter part of May.
George Paldano, former international player; Accredited Coach of Germany, National coach, Davis Cup and Federation Cup Coach; ITF and USPTR; –gptennis.ceylon@gmail.com-