Mufees and Kalansooriya do well in mid-year novices
By Lakshman Ranasinghe
View(s):
At the Mid Year Novices Carrom championship W.M. Mufees partnering I.N. Kalansooriya fought all the way to win the Men's Doubles Championship overcoming stiff opposition in both Quarter-Finals and Semi Finals. This carrom tournament for the novices was organised and conducted by the Carrom Federation of Sri Lanka and worked off at its headquarters in Maharagama over the weekend.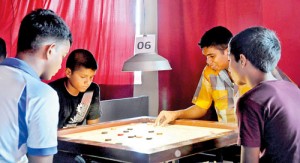 Mufees and Kalansooriya were given a good fight by Hasitha Anuruddha and Chanaka Jeewan in the quarter-finals and in the semi-finals and in the final this champion pair though they had to fight for every point showed lot of confidence to end up as winners.
In the Women's doubles semi-finalists were found and both semi-finals and finals will be played next weekend along with the Women's singles quarter-finals. In the Men's singles segment quarter-finals onwards are scheduled to be played over the weekend.
The 28th Federation Cup Carrom championship is to be commenced on June 13. Entries will be closed on May 31 and then draw will be held on June 2. Events to be worked off at this event will be Men's and Women's Singles, Doubles, Mixed Doubles and Veterans Singles for Over-40s men and women.
Men's Doubles:
Finals: W.M. Mufees/I.N. Kalansooriya beat Sasrika Wickremasinghe 25/19, 10/25, 25/22.
Semi-finals: (1) W.M. Mufees/I.N. Kalansooriya beat Brindly Wickremasinghe/Lalith Kumara 07/25, 25/18, 25/16; (2) Sasrika Mumunayake/Suraj Madusanka beat Ishan Kannangara/Kumara Athukorala 24/25, 25/14, 25/15.
Quarter-finals: (1) W.M. Mufees/I.N. Kalansooriya beat Hasitha Anuruddha/Chanaka Jeewan 24/25, 25/05, 25/18; (2) Brindly Wickremasinghe/Lalith Kumara beat Prameda Mendis/Lahiru Perera 25/16, 25/21; (3) Ishan Kannangara/Kumara Athukorala beat H.T.V. Duminda/Y.G.T. Peiris 25/nil, 25/10; (4) Sasrika Mumunayake/Suraj Madusanka beat H. Prabath/Asitha Priyasanka 25/21, 25/04.
Women's Doubles:
Quarter-finals: (1) Tarushi Himansika/Tashmila Kavindi beat Sashika Sandamali/Madusha Dilshani 25/nil; (2) Minsadi Laknara/Vinuki Senudini beat Saduni Kalpana/Hasini Sameeksha 25/20; (3) Suchini Shashikala/Dewni Pabasara beat Kumudika Wijesinghe/Nuwani Buddhika 25/15; (4) Tharushika Chamodi/Chamatka Navoji beat Joseph Dilka/Madusha Vithana 25/04.