Elite shuttle on show again
By Lakshman Ranasinghe
View(s):
Sri Lanka will host the Yonex Sunrise International Badminton Challenge Championship 2015 for the 2nd successive year scheduled to be played from June 2 to 6 at the Sugathadasa Stadium Indoor Sports Complex.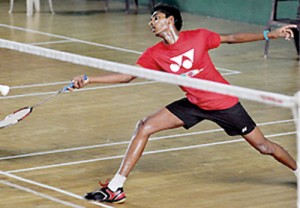 Last year too Sri Lanka hosted the inaugural championship which was taken part by 18 countries. This year 26 countries have already confirmed their participation and the total number of contestants will be 251. Yonex Sunrise International Badminton Challenge is a tournament recognised by the World Badminton Federation and the Badminton Asia Confederation and the performances of players will be closely monitored by both federations.
Indian shuttlers head the number of participants with 57 and with the second highest number of 53 Sri Lankan shuttlers will lock horns with international competitors for supremacy. It is high time for the Sri Lankan shuttlers to come out with outstanding performances as Sri Lanka is yet to win an Asian championship or an international championship. This will be a good opportunity for the Sri Lankans to end the medal drought in badminton.The tournament will be worked off in five segments: Men's Singles, Women's Singles, Men's Doubles, Women's Doubles and Mixed Doubles.
Following teams will be in action at the championship with number of participants:
Badminton Australia (10), India Badminton Association (57), Malaysia Badminton Association (30), Federation Francaise de Badminton, France (5), Persatuan Bulutangkis Seluruh Indonesia (6), Russia Badminton Association (1), Mongolia Badminton Association (1), Czech Badminton Association (3), Vietnam Badminton Association (3), Badminton Association of Thailand (41), Badminton South Africa (1), IRI Badminton Federation (4), Switzerland Badminton (1), Italy Federazione Italiana Badminton (3), Ukranian Badminton Federation (1), Poland Badminton Association (4), Phillippines Badminton Association (14), Bulgaria Badminton Federation (1), Slovak Badminton Federation (1), Sri Lanka (53), Uganda Badminton Association (1), Maldives Badminton Association (9), Chinese Taipei (9), Pakistan Badminton Federation (4), and Israel Badminton (1)
The Annual General Meeting of the Sri Lanka Badminton Association had to be stopped abruptly last week due to a protest made by a certain individual criticizing the administration of the association for failing to give due recognition for some badminton players.