KKS cement factory machinery ripped up for scrap
By Chris Kamalendran
View(s):
For several years there have been proposals to resurrect what remained of the wrecked Kankesanthurai cement factory, but now it has been revealed that some of its machinery have been stripped and sold for scrap.
Chunks of the massive kiln have been removed and some parts remain ready to be hauled off the site, according to a team of government officials which visited the site. The destruction of the 65-year-old factory located in a high security zone, is believed to have happened since the war ended in 2009.
The team including officials from administration, financial, technical, and geological fields, was appointed by the Minister of Industries and Commerce, Rishad Bathiudeen.
Members have recommended that plant and machinery be disposed of only through proper procedure and with the involvement of the Sri Lanka Cement Corporation and Lanka Cement Ltd.
A private quarry that operated to the south of Keerimalai road to extract metal for road building has damaged the limestone deposits, the team reported, demanding that its operations be halted.
Working Director of Sri Lanka Cement Corporation and Lanka Cement Plc, Reyyaz Salley told the Sunday Times approval had not been sought from the legal owners of the factory to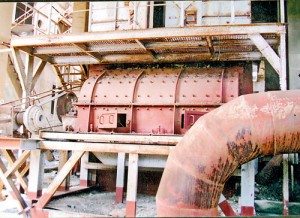 remove machinery.
In 2012, the former Chief of Defence Staff, Roshan Goonetillake, in a letter to the Secretary of the Ministry of Defence had recommended that the factory be relocated. One reason he had cited was that a VVIP complex was being built nearby and the factory would be an environmental hazard.
Meanwhile, this week, the Industry and Commerce Ministry sought Defence Ministry clearance for representatives of an Indian company to visit the site to explore the possibility of setting up a joint venture to revive the cement factory. The company had shown interest since tenders were initially called but representatives have delayed their arrival in Sri Lanka.
As of Friday, the Defence Ministry had yet to respond to the request from the commerce ministry.