We intend reversing the status quo says Ranjith Rodrigo
By Naushad Amit
View(s):
Responding to the remark made by FIFA President Joseph Sepp Blatter, who stated that he was not satisfied with the development of football in Sri Lanka, Football Federation of Sri Lanka (FFSL) chief told the Sunday Times that steps are already underway to address the demands.
While asserting that he was keen to help Sri Lanka — which celebrated the 75th anniversary of FFSL — Blatter said the once war-hit country can do more to improve the game and make football the most popular in the island where 20 million of its citizens are raved over cricket.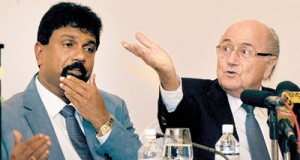 Blatter, who visited Sri Lanka on a 36-hour tour, made this dissatisfactory remark after being asked if the FIFA was pleased with the progress the island nation had made even after a tallied sum of US$ 11.35million received from the global body since 1988 to date.
"By the way, I didn't know that it was such a lot of money we have granted. No, I am not satisfied with the development of football here in this country. It would be a bad compliment if I said I'm satisfied. I'm not satisfied. I have told them (FFSL) that they have to work now, because they have all the support and more support to come. They'll have to do it. I'm sure that whatever will happen in the future, I'll be back one day here and I'll be in a position to say, yes I'm satisfied then," Blatter said.
FFSL President Ranjith Rodrigo, when questioned on this, stated that the FIFA chief and the head of the Asian Football Confederation (AFC), Sheikh Salman bin Ebrahim Al Khalifa, who accompanied Blatter during his Sri Lanka visit, had expressed their concerns on certain areas while conveying their satisfaction on the effort that has been put out by the local body.
"It is a beautiful occasion to be here for the 75th Anniversary celebrations. The progress that been made by Ranjith Rodrigo led Football Federation has been remarkable, but there is a lot that needs to be done," said AFC President Sheikh Salman who was keen on promoting Sri Lanka as a hub in the Asian region.
"Sri Lanka can play an important role in this region, in the development of football and I'm sure AFC will look into making Sri Lanka the hub in promoting the game in this region. Sri Lanka had a good national team in the past and I'm sure under the guidance of the present FFSL administration those days will soon come back," he added.
Rodrigo who said that he was overwhelmed by the positive remarks made by the regional and global bosses, stressed that he was given clear guidance by the duo what to do next.
"They are keener and focused on development at grassroots and youth levels. What they told me was that Sri Lanka needs to seriously think of these two segments if we are interested in hitting the global platform. This is a positive remark and we have already begun work through different projects initiated by FIFA and AFC a few months back. They will observe us and promised us with more support and guidance," Rodrigo stated.
However Rodrigo and his team at FFSL were not given a specific deadline on the mission. According to Rodrigo, it will be a long term project that will keep going on if Sri Lanka's dream of competing as a formidable unit at international level is to become a reality.
"We had big trees and we have big trees. But our record at international level has been below par. What we need is to nurture the budding plants and make them strong trees in time to come. Mr. Blatter wants to see Sri Lanka make gradual headway, from South Asian level to Asian and then to international level. I'm sure if we keep that vision in our minds Sri Lanka will be able to build a strong football unit as well as a strong following, which eventually could make Mr. Blatter's intention of making football the top sport in Sri Lanka more viable," he added.
Rodrigo's plans include playing a series of international friendly games at least every two months, while totally focusing on the areas FIFA and AFC are keen on. These include development and promotion of football at grassroots and youth levels, women's football, futsal, beach football and coach education. To take football to the general masses, Rodrigo revealed that the FFSL is in discussion to conduct a professional league with a private firm. If Sri Lanka kicks off this league, it will be the second of its kinds in South Asia following the launch of the Indian Premier League, which is ongoing after its inauguration.
"We are hoping to launch a professional league where foreign players are expected to compete alongside our local players. The competition will feature teams based on provinces, similar to the IPL in cricket. But we must reveal that it was an idea we had for over two years but could not progress because of certain reasons. We now have the approval of FIFA to conduct this competition," he asserted.
But Rodrigo was well aware that he is missing out the most important component in local football, the schools segment. Schools form the biggest football league in Sri Lanka and the FFSL, according to Rodrigo is highly keen on working very closely with the Sri Lanka Schools Football Association (SLSFA)."We know that the officials of SLSFA are working voluntarily. They form the biggest league and their tournaments are highly competitive. But it must be said that their administration is sluggish. We are really keen to get them involved and conduct in a more effective manner," said Rodrigo who was highly keen on making Joseph Blatter's challenge to topple cricket and make football the most popular sport in Sri Lanka.
Blatter on Tuesday strongly stated that he wishes to see football becoming Sri Lanka's most popular game by overtaking cricket in line with an emerging trend in India.
He stated this during an official press conference in Colombo. Blatter emphasized that he saw no reason why football could not be the most popular sport in Sri Lanka, where the national cricket players are icons.
"Football is a more inclusive sport, relatively cheaper to play, and does not take a long duration. I urge all of you to take to football and look forward to the day when Sri Lanka competes internationally. India just started a professional league with former players, good players, but the right promotion will come in 2017. It will be the first boom in a big cricket country," said Blatter while revealing that India will host the FIFA Under-17 World Cup in 2017 with the participation of 24 teams playing 52 matches.
Blatter, the eighth and incumbent President of FIFA arrived in Sri Lanka last Monday by private jet, accompanied by a high level entourage which included AFC chief Sheikh Salman bin Ebrahim Al Khalifa and other member association Presidents representing Japan, Korea, Thailand, Pakistan, Bangladesh, UAE, Saudi Arabia and top officials of FIFA and AFC. This was Blatter's fifth visit to Sri Lanka and third as the President of FIFA. He was invited by FFSL on its 75th anniversary celebrations, which included the opening of Sri Lanka's first ever purpose built football training facility in Ariyalai, Jaffna, an official meeting with the head of state, an official press conference, a gala dinner which featured the launch of the new national jersey of the Sri Lanka football team and the honouring of three former icons in Sri Lankan football.